Polymer droplets turn smartmobes into microscopes
Boffin nearly threw away first lens before realising it could end the daily grind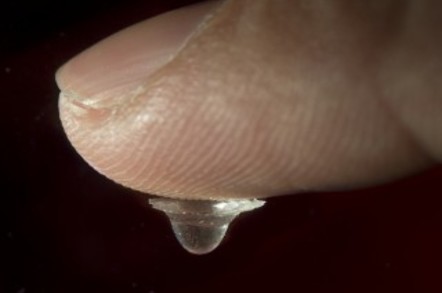 An accidental discovery at the Australian National University (ANU) has created a way to deposit-print small, high-quality optical lenses, in something that's been hailed as "turn a smartphone into an optical microscope".
Not only that, but they use a material already well-known in optics: polydimethylsiloxane (PDMS), which is used to make contact lenses.
Instead of the tedious business of lens-grinding to create high-magnification optics, the researchers have developed a deposition process in which a droplet is allowed to flow over a surface and solidify into the lens.
In the ANU's canned statement, Dr Steve Lee from the ANU Research School of Engineering explained: "We put a droplet of polymer onto a microscope cover slip and then invert it. Then we let gravity do the work, to pull it into the perfect curvature," Dr Lee said.
"By successively adding small amounts of fluid to the droplet, we discovered that we can reach a magnifying power of up to 160 times with an imaging resolution of four micrometers," he added.
On its own, of course, the lens isn't much use: Dr Lee then worked with Dr Tri Phan from the Garvan Institute of Medical Research to create a suitable housing. The group is 3D-printing the frame to hold the lens, an LED for illumination, and a coin battery to power the lamp.
The result is a "lentil-sized" and low-cost lens which the researchers envisage could be used for a variety of citizen-science-style applications like identifying fungi or insects on crops in remote areas. With the right apps, the lenses could also be used in biomedical applications.
The release notes that Dr Lee created the first lens by accident, and nearly threw it away until Dr Phan "got very excited" about it. ®
Sponsored: Minds Mastering Machines - Call for papers now open