Facebook preps ad network to TARGET YOU WHERE YOU LIVE
Location-based assault is go...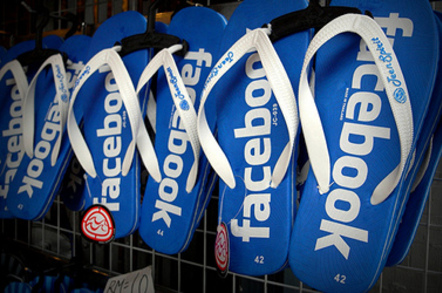 Competition for mobile advertising dollars is set to intensify as Facebook joins Google, Apple and Twitter by launching a mobile ad network that generates revenue when users access apps outside its domain.
At the same time Facebook is also planning to expand into location-based mobile advertising after preparing the ground with the launch of a feature called "Nearby Friends," allowing its users to share their location with a selected group of friends. Facebook has indicated that this will support location based advertising on an opt-in basis.
With these two moves, Facebook is addressing two of the principal mobile ad sectors: location and in-app ads. This comes at a time when the mobile advertising market as a whole is growing much faster than fixed internet, with the main players scrambling to establish market shares before the field approaches saturation.
World mobile ad sales soared by 105 per cent from $8.7bn in 2012 to $17.9bn last year, according to a study published in March by eMarketer, with a prediction that it would put on a further 75 per cent during 2014 to scale $31.45bn.
Playing catch-up
Google had already established a strong position by building out from fixed online advertising, having taken over mobile ad platform AdMob, already popular on the iPhone, for $750m in November 2009.
Google took half the fledgling mobile ad market on the back of AdMob and was still at that mark on 49.3 per cent in 2012, but is only now facing a full-on assault from Facebook, alongside Apple, while Twitter is just getting going. Facebook had just 5.4 per cent of the global mobile ad market in 2012, but increased this to 17.5 per cent share in 2013, so that its actual mobile ad revenues were up seven times to $3.09bn.
Facebook will struggle to increase its share significantly further but it is still on the rise according to eMarketeer and on course to reach 21.7 per cent by the end of the year. Facebook's advance is now drawing blood from Google, whose share will sag a little to 46.8 per cent this year and the question will then be whether Facebook, Twitter and other contenders make further inroads.
The stakes are high for all parties as mobile accounts for a rapidly increasing proportion of revenue. In 2012, only 11 per cent of Facebook's net ad revenues worldwide came from mobile, but this leapt to 45.1 per cent in 2013 and is on track to reach 63.4 per cent in 2014. The proportion is growing just as fast for Google, with mobile accounting for 23.1 per cent of its net ad revenues in 2013 and estimated to be 33.8 per cent by the end of 2014.
Facebook's prospects of eating further into Google's mobile ad share hinge on the success of its twin attack on location and mobile ad networking. For the latter Apple is already there with its iAd mobile platform, while Twitter entered the fray with its $350m stock purchase of mobile advertising network MoPub in September 2013. Founded in 2010, MoPub manages and optimises ads for mobile applications and runs its own real-time biding exchange, claiming to serve more than 1 billion ads per day to app users on iOS and Android devices.
Facebook has been under growing pressure to emulate these competitors and plug this gap in its ad portfolio by launching its own mobile ad network, which it is now on the verge of doing at its F8 Developer conference this week on 30 April 30 in San Francisco.
Although this launch has not been formally confirmed, it is no secret Facebook has a mobile ad network under wraps, following the announcement in January 2014 that it was starting tests placing ads in third-party mobile applications with a small number of unnamed advertisers and publishers.
'Liked' by advertisers
This involved a mobile network approach without using an external ad-serving platform. The idea of a mobile ad network is to combine ad-serving technology with knowledge about users' preferences and tastes, in this case derived potentially from Face-book's global 1 billion subscriber base. This can then be used to create target groups from the Facebook user base, which in principle could range in size from individuals to hundreds of millions.
The key benefit of a mobile network is that it allows Facebook to generate revenue from its users even when they are outside its domain, typically when inside apps. Facebook's appeal to advertisers lies in the size of its subscriber base, combined with the already proven ability to target with reasonable accuracy on the basis of known likes and comments, as well as exploiting the tendency for users to share relevant ads with their friends, extending the reach further.
Facebook believes this will be powerful when combined with known preferences, both by avoiding annoying users with irrelevant ads and also alerting people to services or outlets they are genuinely interested in. To conform with privacy concerns and regulations Facebook will offer location based advertising, as well as the Nearby Friends feature itself, on an opt-in basis, but hopes that the precision will entice many users to do so.
Amid the hype and excitement over advertising, it is worth recognising that this is only part of the mobile monetisation strategy for Facebook, Google, Apple and the other major players, alongside subscription. One reason is that there is a substantial constituency averse to receiving ads, particularly for certain types of services.
For this reason, Google's paid YouTube channels include some that do not show ads and also offers the option of paying for some of the free channels in return for avoiding ads, although admittedly it is not clear what take up the latter have had.
For Facebook advertising has been seen as the predominant source of revenue from the outset, with a strategy of gaining critical social mass by being free to subscribers. But this strategy has had to be revised in the wake of Facebook's one crucial mistake, its failure to spot the rise of international messaging making use of the mobile Internet to undercut and circumvent SMS texting.
Carriers were also slow to spot this trend, causing them to lose $32.5bn collectively in texting fees in 2013, according to Ovum.
As so often happens, it took a startup, WhatsApp, to seize this opportunity and it grew rapidly to gain a 450 million subscriber base by the end of 2013, with forecasts that it would reach a billion to rival Facebook's own base within a further year to 18 months.
Facebook was too late to respond organically and Mark Zuckerberg felt he had no choice but to acquire the company if Facebook was to become a leader in mobile social media and communications, despite having no clear monetisation strategy for WhatsApp and being forced to pay the seemingly extortionate fee of $16bn plus $3bn new stock.
Sponsored: Minds Mastering Machines - Call for papers now open