Stephen Elop: I was RIGHT to BURN the PLATFORMS
Also: He likes pizza and R&D. Presumably not together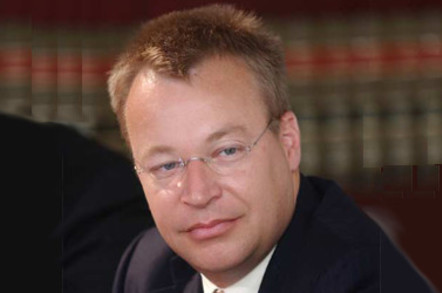 Stephen Elop's favourite pizza is prosciutto ham, mushrooms, green peppers and tomatoes. That was the most concrete answer he gave in an Ask Me Anything session on the Nokia website.
Speaking through the Nokia website's Conversations blog, Elop said that Microsoft won't use the Nokia name for very much longer as the smartphone brand going forwards, and that what they will use is under discussion.
It's worth noting here that, in Microsoft's thinking, the Asha brand is not a smartphone, so that might keep the Nokia branding. Indeed, it would be a mistake not to use it in some markets. In India the word "Nokia" is has become a generic term, like Kleenex, Hoover and Xerox. An Indian person will say "Call me on my Nokia" even if it's a Samsung.
It may be that the Nokia brand continues on the Android X phones too – if they survive the acquisition, as that product line has to be seen as being in danger.
Elop suggested that it might be a Trojan horse for getting Microsoft services such as Skype, OneDrive and Outlook.com into the Nokia ecosystem.
He said "Today, we are using AOSP to attack a specific market opportunity, but we are being thoughtful to do it in a way that accrues benefit to Microsoft and to Lumia" – with no mention of what might happen tomorrow.
And he robustly defended the value of burning the previous platforms, in that it galvanised Nokia and got new phones out in record time.
In a predictable "it will be good for everyone" vein, Elop claimed that the merger will allow more development on products, and integration with Microsoft services and with more resources put into projects that have come from Nokia.
He said:
It's hard to comment on what came before, but I do know that the "burning platform" galvanized the mindset of thousands of employees with the recognition that we faced a critical situation. We brought urgency into the organization and within 6 months we produced our first two Windows Phone devices. This was faster than we had ever gone before and marked the beginning of our cultural change.
Elop promised more development in the area of accessibility, with a look at advanced user interfaces – although of the three platforms, it's probably Windows Phone which leads this already. Whoever thought a triple click was a good idea for the iOS accessibility menu clearly hasn't spent any time with its target customers.
Given that sales data for the three months to March 2014 (supplied by Kantar Worldpanel ComTech) shows Apple performing strongly in the first quarter of the year, and Windows Phone share dropping, with particular growth in Japan, Nokia Microsoft has a lot of work to do. ®
Sponsored: Minds Mastering Machines - Call for papers now open