FTC: State laws blocking Tesla's direct sales are 'protectionist'
Helping existing businesses hurts consumers, say trade regulators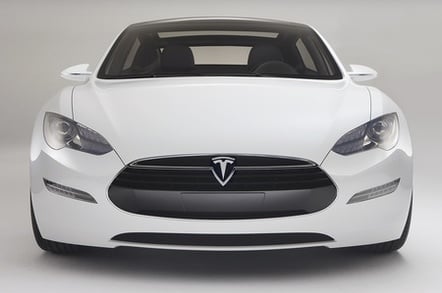 Tesla Motors has gained an influential ally in its battle to sell its electric cars direct to consumers: the US Federal Trade Commission.
Tesla's business model of selling its cars via its website and company-owned showrooms has come under fire in multiple US states – including Arizona, Texas, and New Jersey – where current laws require automakers to sell through independent dealerships.
Tesla founder Elon Musk has criticized such laws as outdated, and has even gone as far as to suggest that the states are enforcing them against Tesla solely because of pressure from the big automakers, who view Musk's all-electric startup as a threat.
In a joint blog post on Thursday, three FTC directors agreed that forcing Tesla to argue the merits of its unique business model in the courts, jurisdiction by jurisdiction, is counterproductive.
"Instead of 'protecting,' these state laws became 'protectionist,' perpetuating one way of selling cars – the independent car dealer," the officials wrote. "Such blanket bans are an anomaly in the broader economy, where most manufacturers compete to respond to consumer needs by choosing from among direct sales to consumers, reliance on independent dealers, or some combination of the two."
The FTC officials urged lawmakers to be mindful of attempts by auto dealers and other businesses to block new forms of competition, which they characterized as "expressions of a lack of confidence in the competitive process that can only make consumers worse off."
But the FTC's missive might not have much direct impact on Tesla's fortunes for two reasons. First, Tesla's foes haven't always relied on the democratic process to push forward their agenda. In New Jersey, for example, Governor Chris Christie first promised to put the issue to the state legislature, but later allowed the New Jersey Motor Vehicle Commission – a body composed of Christie appointees – to pass new rules without a vote.
Second, the FTC officials' blog post is just that: a blog post and nothing more. "The views expressed are their own, and do not necessarily reflect the opinion of the Commission or of any individual Commissioner," reads a disclaimer at the end of the post.
Still, such a strong public endorsement from the top federal trade regulator is a big win for Tesla, which so far has had to make its case through its attorneys.
While Musk has been vociferous about Tesla detractors in the past, however, he has yet to comment directly on the FTC officials' statement, other than to post the link to Twitter with the line, "FTC blog supports direct car sales as good for consumers." ®
Sponsored: Minds Mastering Machines - Call for papers now open