No longer Square: Pear-shaped payments biz seeks buyer - report
Jack Dorsey's firm went cap-in-hand to three big tech giants, claim sources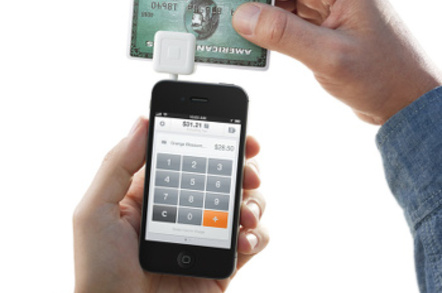 Square, the darling of the first-world mobile payments community, is rumoured to be looking for a saviour. Despite having despite having raised huge amounts of cash the company is running out of the stuff.
The Wall Street Journal reports that Square has been in abortive discussions about a buyout with Google, Apple and PayPal.
All parties have denied these discussions took place.
Square was founded in 2009 by Jack "Twitter" Dorsey and Jim McKelvey, but is still described as a "startup". It uses a magnetic card reader which plugs into your phone's audio jack and an app which listens to the output as a credit card is swiped through it.
While much of the world has moved on to chip and PIN, which is much less susceptible to fraud than magnetic stripe, Square has nearly a million people using their readers. It distributes them for free to anyone who wants to take payments using it.
In the UK any merchant who uses magnetic stripes – and signatures - for payments is liable for the loss if the customer turns out to be a fraudster, while all transactions which use chip and PIN are underwritten by the merchant service provider. Magnetic swipe is much more prevalent in the US – but being tied to ageing technology limits Square's international potential.
Square's initial launch was delayed, during which time the company refocused from being a payments company to a commerce company and launched some products which were not predicated on merchant services.
Square is well liked by its users and has been widely praised for democratising the ability to accept credit cards – in much the same way as PayPal has online – but it has not been lucrative. The WSJ reports that the company, valued at $5.2bn, recorded a loss of $100m in 2013. This is a widening loss and leaves the company with around half its $340m equity capital.
Merchants are charged an expensive 2.75 per cent to use Square readers, so once a retailer reaches a size which justifies the rental of a PDQ machine (typically £50 a month in the UK) that retailer will switch to a system where it pays much less per transaction. This limits Square's opportunities to only the smallest merchants.
From that 2.75 per cent, Square has to pay the transaction charges - which the WSJ reports as four-fifths of the total amount - and meet the costs of customer service and fraud detection. It may well be that the lifetime value of the customers doesn't meet the customer acquisition cost.
Paypal offers a chip and PIN reader for £100, but charges 3.4 per cent plus 20p per transaction. Notably, it has been very much less successful at penetrating the bricks-and-mortar businesses that are Square's core customers. ®
Sponsored: Minds Mastering Machines - Call for papers now open