Sony Xperia Z2: 4K vid, great audio, waterproof ... Oh, and you can make a phone call
Decent phone calls and signal quality ... what a FEATURE
The sound's not outstanding - but hey, you can listen underwater
The handset sounds OK, though not a patch on the twin speakers of the HTC One (M8). This is a waterproof phone, so the possibility of outstanding audio through speakers that won't let in water is reduced. But where it really takes off is when you connect the supplied headphones. These are in-ear cans but they have noise-cancelling built in, so you can keep the rest of the world at bay.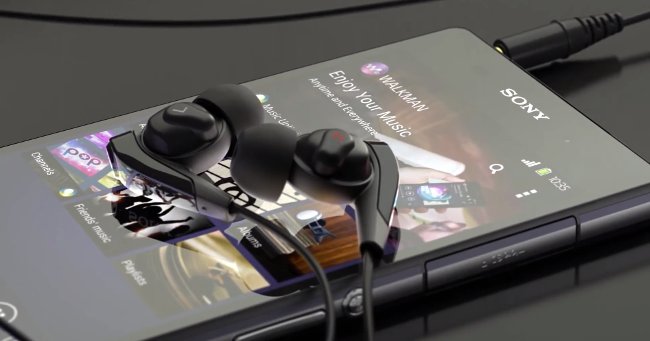 Toss the Dr Dre cans – you might want to try out the in-ear ones that come with the handset
Sony has worked on useful ways to interact with the phone. So, just like many of the Nokia Lumia range and others, you can wake the screen by double-tapping it. It's a more intimate feeling than reaching up to the side of the phone to press the precision-milled power button.
You can also use the phone with gloves on, another real-world benefit, especially in countries with proper winters.
And the top edge of the screen contains a light notification so that you know when a text, email or other item has arrived. You can turn this off and it'll just work to warn you if the battery is on its last legs. Being a Sony, it has an emphasis on entertainment. So there are icons for Walkman, Movies and PlayStation, to guide you to music, film and games.
The interface is understated and elegant, unlike the populist, even brash, icons of Samsung's interface. Sony is going for a more demure look, even down to the tiny sparkles which grow under your touch as you swipe to unlock the display. The whole thing is understated but easy to get to like.
This is a waterproof phone – something of a Sony speciality until Samsung started getting in on the act. It means you need to be sure to close the flaps covering the charging socket and memory card, of course, which can be a minor nuisance. But it means you won't worry if you're caught in a rain shower or drop the handset while reading emails in the bath.
Waterproofing is a great extra, and one that should be on every phone and gadget. Of course, the phone's screen doesn't respond to touch when it's underwater, but the fact that water doesn't kill it is a real bonus.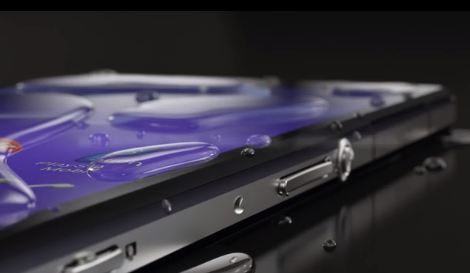 Raindrops keep falling on my EDGE
Battery life has been reasonably good on Sony devices for a while now, and the Stamina power saving mode continues to eke out extra time between charges, especially if you set commands so that activities are automatically curtailed when the power hits certain points. In any event, the phone will safely get you to the end of a day without worries.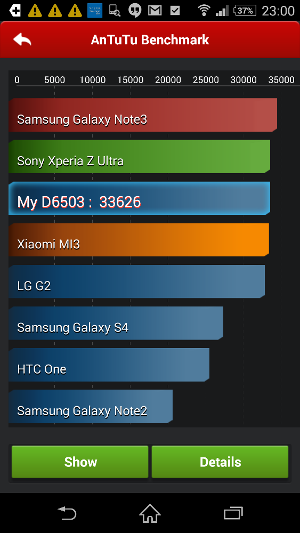 The Antutu benchmark
And performance is another area of improvement. There's 3GB of RAM and a speedy Qualcomm MSM8974AB Snapdragon 801 processor. This is a quad-core 2.3GHz model and works very well to ensure there's little or no slowdown, no matter what you throw at it. AnTuTu benchmarks show it to be a proficiently effective handset, beaten by two bigger-screened phones, the Samsung Galaxy Note 3 and Sony Xperia Z Ultra.
Oh, and phone calls and signal quality are both very good on this handset (which should go without saying, but still doesn't).
Verdict
Did you like last year's Sony Xperia Z1 smartphone? It looked handsome, felt good and performed well, with a great camera and impressive waterproof features. The Xperia Z2 is all that the Z1 was but better. The screen is a big improvement, the performance is increased, the headphones now have great noise-cancelling capabilities. This is an excellent phone. Of course, if you didn't like last year's model, you may want to look elsewhere. ®
Sponsored: Minds Mastering Machines - Call for papers now open

Sony Xperia Z2: 4K vid, great audio, waterproof ... Oh, and you can make a phone call
Looks high-end, feels high-end, weighs high-end. An excellent phone.