Array upstart's chip boffin CEO: Skyera's not just a flash-in-the-pan
These are serious revenues - plus there's a volume ship in May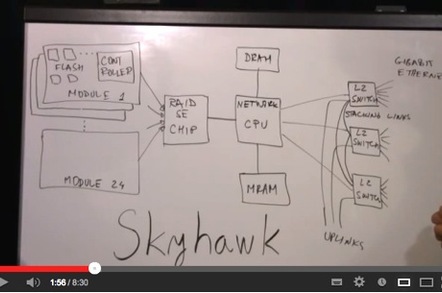 Comment As a part of his CEO series, Willem ter Harmsel interviews CEOs of innovative companies in the fields of storage, virtualisation and networking.
Rado Danilak, the founder and CEO of Skyera was in for a chat recently.
The company – which includes Western Digital among its investors –was first introduced to Reg readers in August of last year.
They certainly caught people's interest then with their very low – almost too low – $2 per GB of flash storage and 500TB per 1 U/21PB per rack storage density.
These specs are so good, they could arouse suspicion. At least until you realise that Rado is not only the founder of Sandforce but also the engineer behind some of the best chipsets ever at NVIDIA.
Rado told me that in fiscal year 2012, before it received $51.6m in funding, Skyera turned a healthy revenue of $3.6m.
He could not provide the revenue numbers for 2013, but claimed they would reflect strong growth.
The relevance of these numbers is that Skyera has seemingly been able to create much more revenue, much earlier, than competitors like Pure Storage and Violin Memory.
In addition to these impressive figures, Rado also announced that it would be shipping its product in volume in May 2014.
Skyera does seem to present itself as having a great deal of engineering power as well as healthy financials. We'll have a full interview with Danilak later this week. ®
Sponsored: Minds Mastering Machines - Call for papers now open