A premium smartie lump: Oppo N1 CyanogenMod Edition
Monster phablet rooted at the factory for your pleasure
Secret service
Other third party and OEM launchers offer similar features but none offer quite this range of options. Nor do they look, feel and work so much like stock Android while offering them.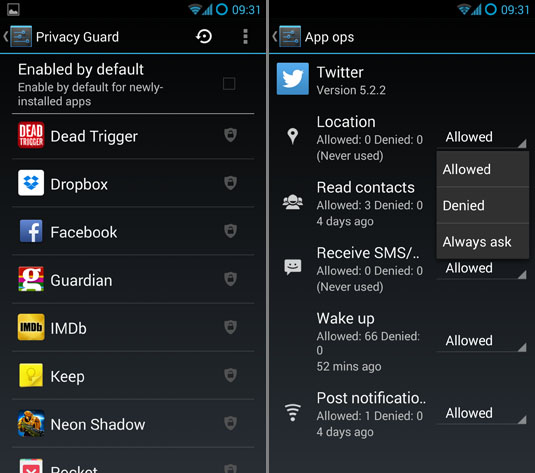 Privacy Guard enables customisation of app privileges
There's more to CyanogenMod than nifty aesthetics, though. Privacy Guard is probably the most important additional feature. This lets you see what information your apps have access to, enabling you to make modifications and restrict access as desired.
Also baked into the operating system is a profiles selector: a call and SMS blacklist that lets you block private, unknown or user defined numbers, or any combination thereof. There's WhisperPush too, that provides encryption of your SMS messages.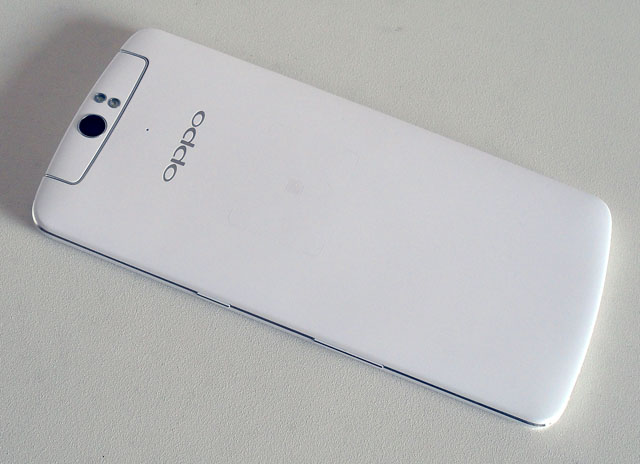 The styling at the back is decent enough
You can also tie your device to a CyanogenMod account for remote wiping and locating in case of loss or theft. As with Trebuchet's features, these functions can be added to most Android devices using third party apps but having them built into the OS is still a boon.
Meanwhile, app bloat is noticeable only by its absence. All you get is the Apollo music app, the longtime CM stalwart DSP Sound Manager and a file manager – which is decent enough but no match for the likes of Solid Explorer.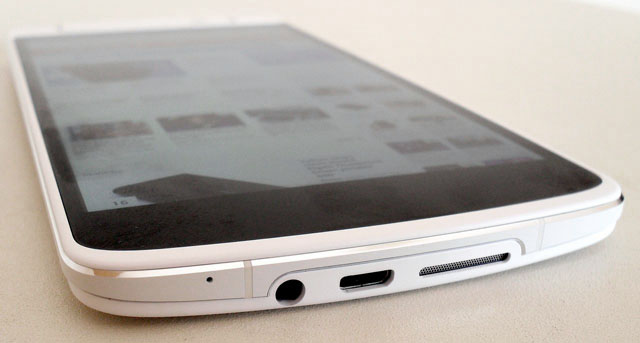 Speaker and microUSB port that supports OTG but not MHL
Features aside, during two weeks of daily use the CyanogenMod ROM didn't once go pear-shaped and proved every bit as reliable and stable as a stock Android. I didn't really expect anything else – the lads and lasses at CM having a good track record in such matters – but it's worth being explicit on this matter.
Beyond system stability in everyday use I have to profess myself pretty impressed by the N1. Call quality was excellent with incoming calls sounding notably clear and loud. Signal reception was good too, both from the cellular radio and the dual-band 802.11n Wi-Fi. The single speaker built into the bottom edge of the N1 was also pretty impressive, loud and composed.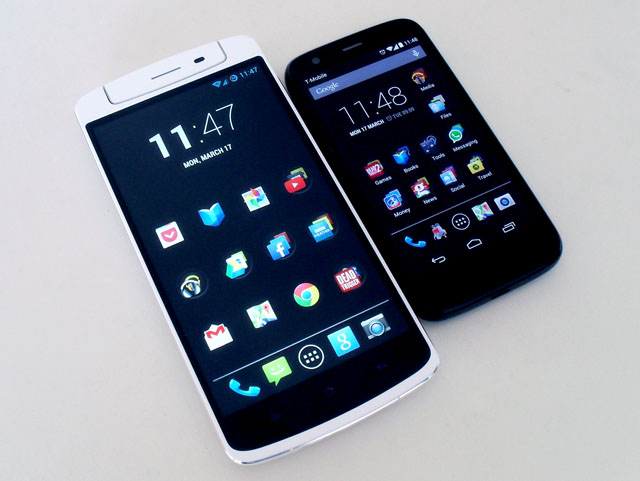 Putting things in proportion: Oppo N1 (left) and Moto G (right)
The Reg Verdict
So, is the Oppo N1 CM Edition a compelling alternative to Samsung's Note 3? No, not really. It's much bigger and heavier, has a fixed battery, a less advanced chipset, no LTE connectivity and no storage expansion. Yet despite those failings, I found myself rather liking it.
Size aside, it's a very well made and stylish device, has some genuinely clever features like the O-Touch touchpad and rotating camera. CyanogenMod's take on Android offers also some concrete advantages over a stock device. The screen is good, too, and don't forget the O-Click remote – it's less than essential but more than a gimmick. Herds can be great things – ask any wildebeest – but thank heavens for the likes of Oppo, so we don't all have to follow one. ®
Thanks to MobiCity for the loan of the Oppo N1 CyanogenMod handset.
Sponsored: Minds Mastering Machines - Call for papers now open

A premium smartie lump: Oppo N1 CyanogenMod Edition
Factory fitted CyanogenMod Android phablet, pre-rooted with a range of customisation and security features.