A premium smartie lump: Oppo N1 CyanogenMod Edition
Monster phablet rooted at the factory for your pleasure
Alarming consequences
The O-Click is a little Bluetooth button that can act as a remote shutter command, thus reducing camera shake. It has a handy little metal loop around it so you can attach it to your car keys as it also functions as a proximity alert. So when you walk off leaving your phone behind it can fire up the phone's alarm remotely, though how you'd lose something as large as the N1 is beyond me. The O-Click's functionality can be tuned in the phone's Settings menu, if you just want it to perform some - or none - of those tasks.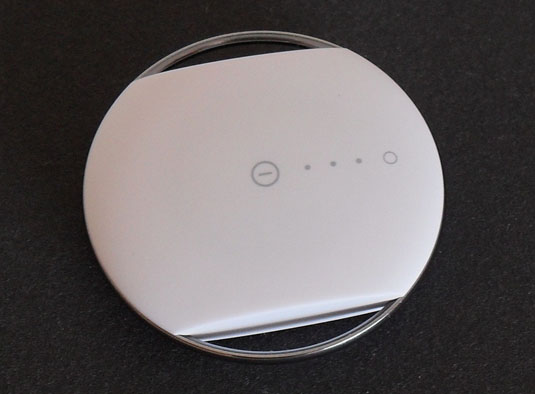 The O-Click helps minimise separation trauma
Internally the N1 is rather less impressive. To start with, it's a 3G rather than 4G/LTE handset and the chipset is a Qualcomm Snapdragon 600 component that couples a quad-core 1.7Hz Krait 300 processor with an Adreno 320 GPU.
While more than powerful enough, it's not in the same league as the Snapdragon 800 chipsets now found in some Android flagships, let alone those looming on the horizon with the new 801 chipset. On a more positive note, the N1 packs a healthy 2GB of RAM.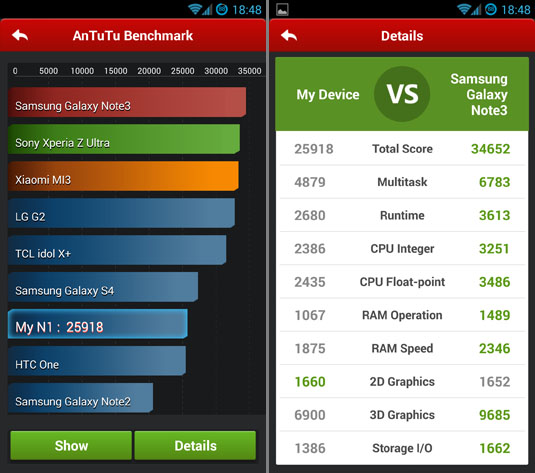 AnTuTu test results and Galaxy Note 3 comparison
Storage is a wee bit off the pace too. The standard N1 is available in 16GB and 32GB flavours but the CyanogenMod device seems to be 16GB only, and that is divided up old-style into 'System' (2.95GB) and 'SD Card' (9.8GB). There's no memory card slot, which will turn off many potential buyers and Reg readers alike. All is not lost though, as the microUSB port does support On-The-Go hosting. Unfortunately it doesn't support MHL media output so you'll need to use a wireless alternative. There's no infra-red transmitter, either.
Turning to matters of power, the N1's fixed battery is a sizeable 3,610mAh affair that proved good for eight and a half hours of 1080p MP4 video playback. In more general use you should see the thick end of two full days from a charge, depending on how hard you ride it. Just to round off the technical specification, the N1 has an NFC chip and comes with Bluetooth 4.0.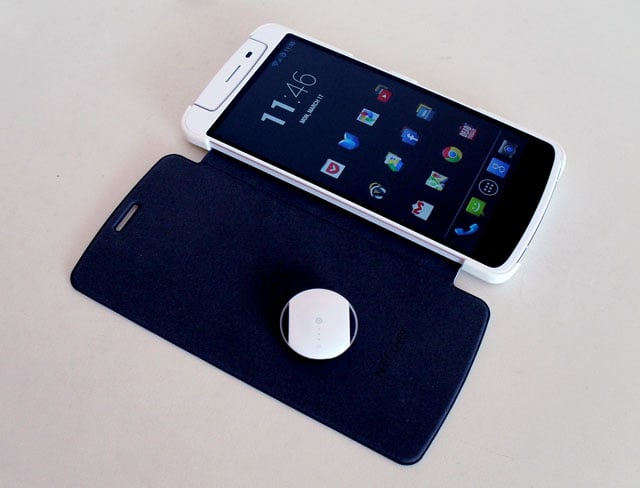 Flip cover is supplied free in the package along with the O-Click
Currently the N1 CyanogenMod Edition runs CyanogenMod 10.2 which is based on Android 4.3. An OTA update to CyanogenMod 11 which is KitKat-based is apparently due soon and it's probably safe to assume that, moving forward, updates will arrive faster than on any other handset not carrying a Nexus badge.
Both Oppo and CyanogenMod have said that they see this partnership as a long-term affair.
My review device arrived in an impressive retail package complete with a nifty flip cover and surprisingly good earphones. It was already rooted, too, which is one hoop fewer to jump through if you want to start messing about with the operating system.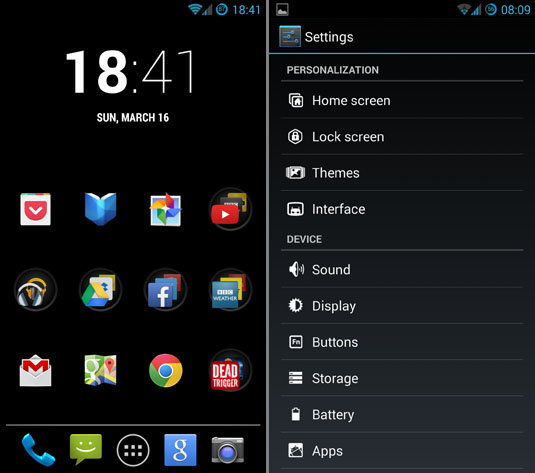 CyanogenMod Trebuchet launcher and menu options
Fronting the operating system is CyanogenMod's own Trebuchet launcher. It looks much like stock Jelly Bean but is massively more user-configurable, with pretty much every aspect of the UI open to being mucked about with. Want more docks? Want to remove the app and folder names from the home screen? Want to install new themes? Want to change the quick settings menu? Want gesture control? It's all there for you to play with.
Sponsored: Minds Mastering Machines - Call for papers now open