What's a right pain in the ASCII for IBM? Its own leech-like hardware biz
Keep your eyes on our cloud while we remove this pesky thing, say execs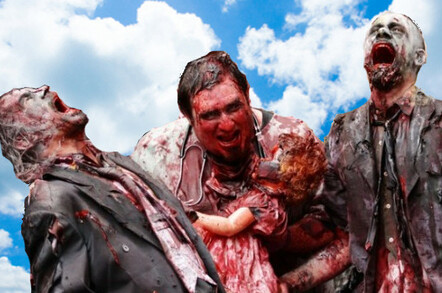 IBM's earnings for the first quarter of the year show that the company's hardware division has turned into a leech sapping Big Blue's profits.
IBM's total revenues for the quarter were $22.5bn, down four per cent on an annual basis and earnings-per-share are $2.54. This represented the eight consecutive quarter of declining sales for the venerable company.
Though IBM met the expectations of beancounters polled by Yahoo! for earnings (though they were down 15 per cent year-over-year), its revenue missed Wall Street hopes of $22.91bn.
"There are major shifts in our industry driven by data, cloud, and the way individuals are engaging," explained IBM's chief financial officer Martin Schroeter in a call discussing the results. He acknowledged that IBM's revenue growth for the future will be strongly affected by "challenges in our hardware business."
The results show that hardware, as ever, is sucking profits out of the company and dragging down revenues.
The division's revenue of $2.4bn was down 23 per cent year-on-year and around half off of the previous quarter's $4.3bn compared with a 2 per cent rise in IBM's other higher-margin Software ($5.7bn) and Services ($9.3bn) divisions.
To deal with the hardware problem IBM has sold its x86 server business to Lenovo and is trying to grow sales of its POWER chips through an ARM-style foundation, but Schroeter acknowledged on the call that a "secular issue" – biz-speak for a fundamental change in how the tech market works – means that POWER chips are in a tough (read: neither ARM or x86) place.
The company is also experiencing trouble abroad, with revenues in Asia-Pacific falling 12 per cent to $5bn helped down by an eye-watering 20 percent plunge in China, versus a four percent decrease in America ($9.6bn), and a four percent rise in Europe, the Middle East and Africa ($7.6bn).
One bright spot in IBM's view is its "Cloud" business which, the company says, saw a revenue growth of more than 50 per cent. Its as-a-service cloud products had a first-quarter "annual run rate" of $2.3bn, IBM said, almost eclipsing its troubled hardware division. US Financial regulator the SEC is currently probing IBM for how it recognizes cloud revenue, though, so make of that what you will.
The company highlighted its significant investments in both platform-as-a-service (via its Cloud Foundry-based "BlueMix" tech) and infrastructure-as-a-service (via recently-acquired SoftLayer) as proof that it is shifting its business toward the more profitable areas.
But as IBM grows some divisions it is pruning away at others. El Reg hears employee morale at the corporation is down following massive layoffs in Europe, India, and America in the last quarter.
IBM's shares were trading down 4.05 per cent at the time of writing as Wall Street reacted to its so-so performance. ®
Sponsored: Minds Mastering Machines - Call for papers now open