New FEMTO-MOON sighted BIRTHING from Saturn's RING
Icy 'Peggy' looks to be leaving the outer rings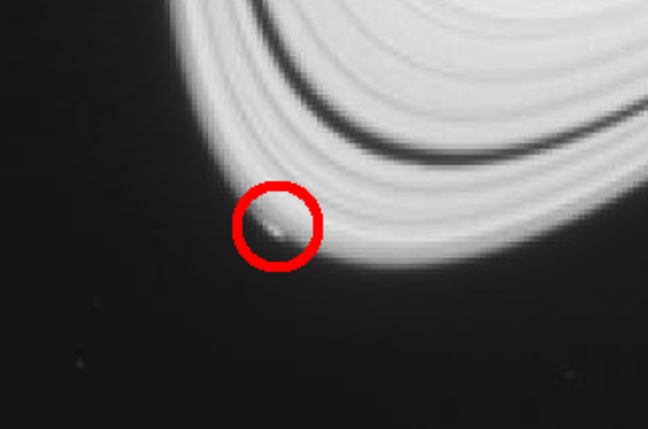 Boffins peering at images sent home by NASA's Cassini spacecraft think they may have spotted the first throes of a new moon coming into being.
Dubbed "Peggy", the moonlet is probably a lump of ice. But astroboffin Carl Murray from Queen Mary University of London, lead author of a paper to be published in the journal Icarus, told NASA the lump looks to be breaking away from one of the planet's famous rings.
The picture below shows Peggy. We've circled her in red.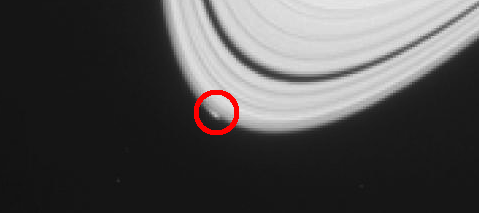 Peggy: that little bright spot in the red circle might just be a new moon
Not impressed? Murray says Peggy is probably only 800 metres in diameter which makes it too small to see. But the mere fact there's a bright spot to see is unusual: Saturn's rings are usually very smooth. Boffins therefore think the bump and the extra light prove something is on the move.
Even if Peggy has indeed broken free to become a mini-moon (the snap above was captured on April 15th, 2013) it is not destined to float alone forever. Instead, Murray hypothesises that Saturn's rings may once have been rather larger but that over time a great many Peggy-like lumps have spun off before eventually bumping into each other to become the 60-plus moons the gas giant possesses. ®
Sponsored: RAID: End of an era?