Dell tanks up with hot Fluid Cache, drives databases twice as fast
Flushed with flash success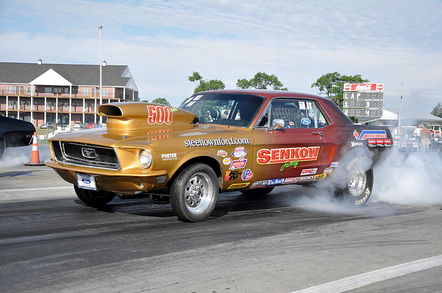 Dell has extended its Compellent array's automated data tiering to place hot data in connected server's PCIe flash caches, nearly doubling database access speed, increasing user counts 6 X and lowering per user costs by 70 per cent.
The news of the Fluid Cache for SAN product came at Dell's Enterprise Forum in Frankfurt. Marius Haas, its chief commercial officer and Enterprise Solutions president, said: "We're ... providing customers with a unique application acceleration solution that marries server and SAN technologies to bring new levels of performance and value to their business."
Dell's Fluid Cache for DAS (direct-attach storage) was introduced a year ago, using its acquired RNA technology. It enabled a PowerEdge server to use Micron-sourced Express Flash SSDs as a cache, fed with data from the server's direct-attached storage.
Back then we wrote: "In the second half of this year, Dell will stretch Fluid Cache so it can front-end Compellent arrays attached to PowerEdge 12G servers." This is what Dell is now doing.
With Fluid Cache for SAN, Dell is putting data into the PCIe flash cards, mounted on the server bus, from a connected Compellent array - SAN - to provide server flash speed data access to applications, integrated SAN storage, managed as a single storage infrastructure.
The Compellent arrays run the Storage Center 6.5 OS, and Dell reckons its Fluid Cache for SAN "achieves 5 million random read input/output per second (IOPS), accelerates application performance by up to 99 per cent and reduces cost per user by up to 71 per cent. ... allowing a more than six-fold increase in the number of concurrent users – increasing from just 2,200 to 14,000 users."
This IOPS performance was shown in a random read workload with a 4 KB sized block and a hardware stack consisting of:
Eight Dell PowerEdge R720 servers
Each containing two Dell Express Flash 350GB PCIe SSDs
One Mellanox ConnectX-3 40GE RoCE card
Fluid Cache software
All connected by Dell 10/40GbitE switches and Compellent storage array
Write-back caching technology, with no single point of failure from server to SAN
The 99 per cent better application performance statistic comes from tests: "Using an 8 node cluster of OLTP running on an Oracle database workload simulation, the Average Response Time (ART) was reduced 99 per cent compared to the same Dell hardware stack without Dell Fluid Cache for SAN."
The 71 per cent lower user cost is based on list pricing and is based on a 3 node OLTP cluster on an Oracle database with Dell Fluid Cache for SAN vs. the same configuration without Dell Fluid Cache for SAN.
The Fluid Cache for SAN set-up resulted in 1,900 concurrent users at one second and costs $360,191 – or $189.57 per user. Without the Fluid Cache for SAN, the same configuration achieved 500 concurrent users at one second and costs $331,696, or $663.39 per user.
Pretty convincing.
Hot data resides in the server flash caches, where it is accessed with lower latency, with cooler, lower access-rate data being held in the array.
In effect the Compellent Data Progression technology has had a server flash tier added to the storage tiers within the array. With this, Dell claims, "customers ... can achieve all flash performance for the price of 15K drive technology while reducing their storage footprint". This calculation is based on Dell list pricing.
Targeted application areas are online transaction processing (OLTP), data warehousing, virtual desktop infrastructure (VDI) and the cloud. Customers looking at speeding applications via using, for example, Fusion-io server flash and ioTurbine software, or an all-flash array approach, now have a potentially less expensive and equivalent performance approach without having to take on a separate "flash silo" management burden.
The product has been talked about already: you could read this document (PDF) or watch this video:
.
Compellent software update
Dell says its Compellent SAN provides reliability, manageability and data protection, with automated tiering, cache-aware snapshots, and replication. Storage Center 6.5 adds:
Block-level compression with an up to 77 per cent compression ratio
Self-encrypting drive support
Synchronous Live Volume capability, so data can be restored data non-disruptively after an outage
Multi-VLAN tagging support so cloud service providers can offer multiple service levels to customers on different secure virtual domains on the same array
Management
The company announced enhancements to its OpenManage portfolio with:
OpenManage Essentials 1.3: which adds data centre protection through integration with Dell AppAssure for scheduled system backups of server data, operating systems, applications, files and databases, as well as discovery and monitoring of Dell SonicWALL security appliances.
OpenManage Mobile: Integrated with OpenManage Essentials 1.3, and available to customers as a free software download. "This is the industry's first mobile handheld solution to provide IT administrators one-to-many access to anywhere, anytime data centre monitoring of servers, storage, networking and firewall systems".
iDRAC with Lifecycle Controller: "With new automatic deployment and configuration functionality, administrators can reduce the number of steps required to deploy hardware configurations by up to 97 per cent, as compared to capturing and deploying the configurations manually."
Dell is announcing the latest updated to EqualLogic Host Integration Tools for VMware, Microsoft and Linux. According to the firm, it "offers improved and simplified SAN performance, streamlined management, and improved administrator efficiency to provide customers with a storage environment finely tuned for virtual computing environments."
Networking
Forum attendees also got to hear about new networking gear:
Z9500 Ethernet fabric switch – claimed to be the densest, highest performing fixed-form factor switch for scale-out data centre and cloud workload designs.
Active Fabric Controller - software for zero-touch provisioning and orchestration of virtualizxed networking functions and services.
NFV efforts – co-engineered Dell-Red Hat OpenStack-based NFV and SDN productss are expected to be available in 2014.
Availability
Fluid Cache for SAN and Compellent Storage Center 6.5 will both be available worldwide in the second quarter of 2014. The enhanced OpenManage portfolio is available worldwide now as are EqualLogic Host Integration Tools (HIT)/VMware 4.0 and HIT/Linux 1.3. HIT/Microsoft 4.7 will be available later this month.
The Z9500 Fabric Switch is available in North America this month and worldwide in June. The Active Fabric Controller should be available worldwide in the second quarter of 2014. ®
Sponsored: Minds Mastering Machines - Call for papers now open