Red Hat unveils cloudy software bazaar
Linux fiddler keeps on huffing on its OpenShift cloud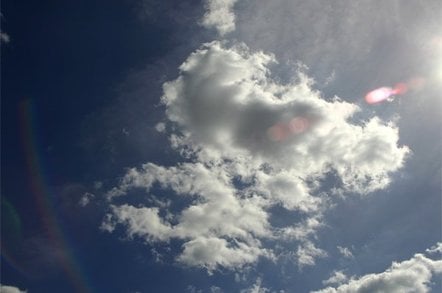 Red Hat has created a "software marketplace" to help it cut the steps it takes for admins to layer third-party applications on top of its OpenShift platform-as-a-service.
The marketplace was announced by Red Hat on Monday as the Linux company kicked off its annual Red Hat Summit in San Francisco.
The cloudy marketplace will give Red Hat customers a simple way to access third-party OpenShift add-ons from existing Red Hat partners such as BladeMeter, ClearDB, Iron.io, MongoLab, New Relic, Redis Labs, SendGrid, and Shippable.
Other companies are expected to join as time goes on. The market will launch "in the coming weeks," Red Hat said, and is encouraging keen software vendors to join.
"It's a lot of operational improvements for the developer," explained Red Hat's technical director for the OpenShift Partner Ecosystem, Chris Morgan, in a chat with El Reg on Monday. "For a developer before to use any third-party software they had to go to that provider directly, procure the software and the accounts, and do a manual integration of the tech, and if it was paid for they'd have two separate bills."
By comparison, OpenShift cuts the steps it takes to link the technology to a running OpenShift instance and consolidates billing and account management, Morgan explained.
This, Red Hat hopes, will make it easier for developers to construct more elaborate (and hence from Red Hat's point of view more lucrative) applications on top of OpenShift.
Marketplaces are one of the main ways that companies try to spur interest in their technology products. They also make it easier to manage complex estates of software.
Cloud king Amazon Web Services has operated an expansive third-party software market for several years. This has proven to be a major draw for customers, though the software bazaar has grown to the point that it can seem a bit confusing and large for a person new to the cloud.
Red Hat says it is "trying to find the right balance between giving folks options and for it not being overwhelming," explained the company's veep of cloud and OpenShift, Ashesh Badani.
One thing that Red Hat neglected to mention is that by operating a third-party software market Red Hat can gain some valuable information on what services people are layering on top of OpenShift, and use this to help it develop more products – just as Amazon does with its "partner" ecosystem. ®
Sponsored: Minds Mastering Machines - Call for papers now open