Danes debut Bluetooth-connected 'made for iPhone' hearing aids
All the cool grannies are wearing them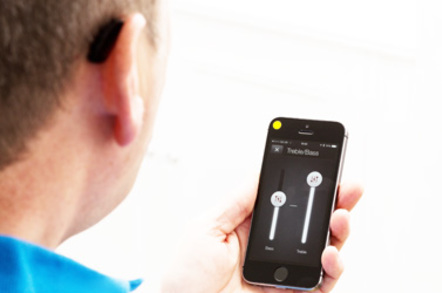 Danish company ReSound claims the LinX for the iPhone is the first "cool hearing aid". That might be stretching things a bit but perhaps only because of attitudes.
The ReSound LiNX can use the iPhone as a phone, with the audio through the hearing aid like a Bluetooth headset, play music stored on the phone for the hearing impaired user or use the microphone in the iPhone as a remote device so that the user can position it near a person they are talking to.
An app allows the user to configure settings for volume, treble and bass and then geotag them so that the settings used in the quiet of an office might be different to those in the pub. There are separate settings for left and right ears.
Typically older people lose higher frequency hearing so the sliders can be used to boost that. ReSound has also added noise cancelling, which uses the microphone in the iPhone to counter ambient background sounds.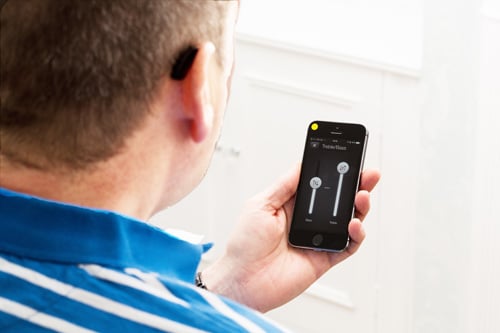 Bluetooth Smart gives device control as well as audio streaming
At over £3,000 for the pair, these devices are not something you'd want to lose, and it's something a lot of hearing aid users worry about. The iPhone app can help you locate the hearing aids, initially by showing on a map where they were last used and then with bar graphs showing signal strength, giving hide-and-seek style hot-and-cold indications of how far you are away they are as you look for them.
While the US mandates that a proportion of phones sold by any manufacturer should be compatible with inductive loops for hearing aids, Apple – like most manufacturers – does this through an accessory. The exceptions to this rule are companies such as Doro and Emporia, which specialises in accessible devices.
Many hearing aid manufacturers offer wireless connectivity, but this uses proprietary radio standards which are no good with a mobile phone.
The ReSound hearing aid uses Bluetooth Low Energy, which the Bluetooth SIG calls "Bluetooth Smart", no doubt making other forms "Bluetooth not-so-clever". Bluetooth Smart is used to control the hearing aid so that a separate remote control is not necessary. The low power requirement means, depending on how much you stream of course, the battery will last between five days and a week.
There will of course be Android versions: they are waiting on Bluetooth smartphones or ReSound will make them available with an adaptor.
There is no stigma attached to wearing spectacles and yet most people don't consider buying hearing aids until well after it has become necessary, and even then often don't wear them, so maybe what the hearing aid really needs to be seen as "cool".
There are over nine million people of retirement age in the UK and it's great to see a realisation that even fanbois can be grey. ®
Sponsored: Minds Mastering Machines - Call for papers now open