Who wants a ROBO-BUTLER? Google and pals do – and they've just put $2m towards it
Upstart showered with Silicon Valley gold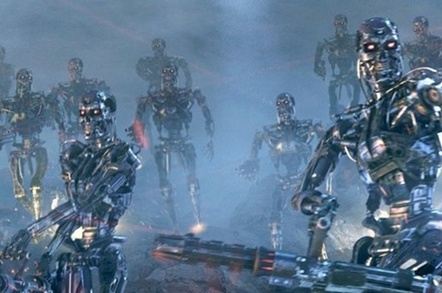 RoTM Google has placed a bet on a robotics company that is working to create "services" robots for use in hospitals, care homes or hotels.
Mountain View's investment arm, Google Ventures, handed over an undisclosed sum of money to startup Savioke, which is headed up by Steve Cousins, former CEO of PR2-maker and robotics pioneer Willow Garage, which developed the open-source robot operating system (ROS).
Cousins' new firm has yet to unveil a single member of its robot horde, however.
Along with the contributions of Google's fellow investors – which include Morado Venture Partners and AME Cloud Ventures – the total funding round amounts to $2m (about £1.2m).
Google's investment comes in the wake of its recent purchase of eight different robotics companies. Its most notable recent robot upstart slurp was the team behind SCHAFT, which triumphed during the DARPA Robotics Challenge.
Savioke was founded last year and aims to get robots working in the service industry, although any patrons of fast food restaurants might suspect this actually happened a long time ago.
"We have decided that it is time for robots to become available widely in the service industry," said Cousins.
"We're not ready to quite disclose what we are going to be doing, but we believe the technology is ripe and this industry is largely untapped.
"There's a few examples of robots in hospitals that are extensions of a surgeon, but what we are looking at is a little bit more what people traditionally think of as robots – autonomous entities that can do things on their own and can help people out."
There has been a lot of hoo-hah in recent weeks about humans being replaced by robots, with predictions that journalists, soldiers and even the unhappy denizens of Foxconn factories are set to be sacked in favour of silicon.
Google wants to make sure it's in there first. With a proven track record of quickly dominating whole industries, it is well-placed to make sure human beings are chucked onto the dole queue and robots put in their place.
"As the lines continue to blur between industrial and personal robotics industries, Google Ventures is thrilled to be working with an exceptional group of people at Savioke," said Andy Wheeler, general partner at Google Ventures. "Steve and his team already have had a lot to do with moving the robotics industry forward. The next act promises to be even more revolutionary."
By revolutionary, we think he means "rubbish for you, but great for Google". Happy Easter, everyone. ®
Sponsored: Minds Mastering Machines - Call for papers now open