USB reversible cables could become standard sooner than you think
First devices could be ready for CES debut next year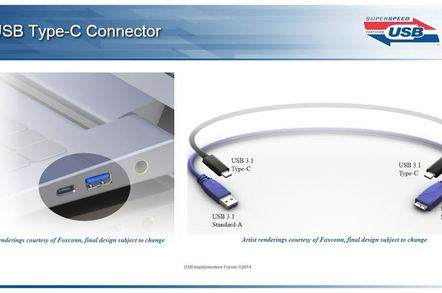 There's usually a significant delay between a new technology hardware standard being finalized and seeing it in commercial systems, but the latest update to the USB spec looks like it's going to be rolled out much faster than people think.
Last week, the USB Implementers Forum (USB-IF) released the first solid details about the next generation of SuperSpeed USB, which enables 10Gbps duplex data speeds, 100W of power capacity and a Type C connector that's reversible, getting rid of the familiar two-attempt fumble it takes many people to plug in today's USB cables.
"My impression is that the transition is moving much more rapidly with SuperSpeed USB," Jeff Ravencraft, president of the USB-IF, told The Register."The usability factor is big [with Type C], not having to be concerned about what the orientation of the actual plug is, I think, will really help drive the transition."
The Type C standard will be finalized in July, and Ravencraft said hardware partners were highly enthusiastic about getting it into products as soon as possible. The new capabilities of the standard are appealing to vendors, and the Type C form factor – which is around the size of today's micro-USB plugs – allows them to build slimmer systems and eliminate superfluous connectors.
The capabilities of the new cabling will also make a cut into the audio-visual cabling market, he said. Monitors can be daisy-chained using the cabling, eliminating expensive connectors.
Going forward, the current hardware isn't topped out by any means. There is room for significant improvement in data speed within the spec to allow better performance in the same cabling once the control systems are developed Ravencraft said.
Given his role in the USB-IF, Ravencraft doesn't have direct control of hardware, but he said we'd possibly see the first kit using the new standard by the next Consumer Electronics Show in January, and for certain by summer 2015.
That's a lot faster rollout than SuperSpeed using the existing Type A and B cables has managed, and a lot faster than the introduction of USB 2.0 back at the turn of the century. Time will tell, but USB-IF is certainly a lot more bullish about the new technology than it has been in the past. ®
Sponsored: Minds Mastering Machines - Call for papers now open