Insight CEO: Everything that's cloudy is GOLD
But my god we've got a hell of a job to get there, says boss at box-shifter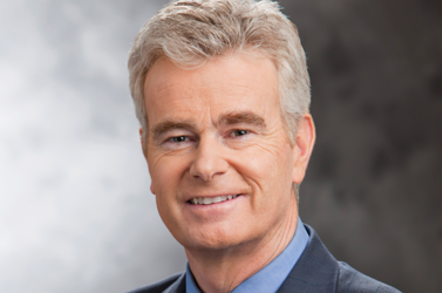 Exclusive A "sickness" at the core of the IT channel - an over reliance on back-end-loaded vendor rebates - threatens to render many tech suppliers irrelevant. But there is a cure, it is fluffy, white and called the cloud.
Or so says Wolfgang Ebermann, the EMEA president at Insight, who after 23 years at Microsoft in various senior roles, left last year to take up residence at the bulky reseller.
Talking exclusively to The Channel, the exec reckons the "whole channel" is facing a "phenomenal challenge" that is very specific to the tech sector.
"The profit in the distribution and IT reseller channel is primarily driven through rebates, not through the markup on the licence [or hardware] you sell to clients.
He adds that suppliers are betting on post-sales fees to bolster the bottom line, "this is strange, very very strange".
Ebermann talks from experience: at Microsoft he "influenced" the multiple restructure of fees that has been extremely painful for some of the software titan's largest enterprise resellers – ironically including his new employer, which has seen resulting profits fall by millions of dollars.
Microsoft accounts for a significant portion of Insight revenues in Europe, allegedly over half the business, but the reseller is not alone in being heavily reliant on Redmond: Software One and Comparex are also big partners for the software giant.
He says customers are able to justify paying a price premium for good service, but "this principle is not intact anymore [in the IT industry]".
Vendors are questioning why they should pay rebates to a middleman who simply discounts prices upfront for customers only to claw some of it back post-sale.
"What is the value of the channel?" said Ebermann.
However, vendors shaped the current behaviour of the channel, and even VMware, which was armed with disruptive technology, played the same game.
"They [VMware] gave partners the ability to mark up on the licence sell and in order to win against other players [rivals] in the market they gave a lot of channel rebates on top of that," said the Insight man.
"Again that is an illustration of the sickness of the way the IT industry has developed the channel."
Insight is late in reacting to this trend - Computacenter spotted the problem 10 years ago when HP acquired Compaq and ravaged the partner rebates. It moved into services in a bid to be less reliant on the whims of vendors and this now accounts for a third of turnover.
In contrast, IT services for calendar '13 represent just six per cent of Insight's North America sales and in EMEA this falls to two per cent. These low numbers are likely to be affected by US company revenues recognition practices.
Cloud pays its own way
Ebermann says services will boost customer loyalty and create a "stickiness" and the cloud will be the route to do this.
"This industry is at a tipping point. When you talk to the CEO and CFO and ask if IT is a must have, everybody would agree," he tells El Chan, "but if you ask a second question 'do you see IT as a strategic asset or a cost factor today?', the perception is cost."
Some 90 per cent of CIO budgets are spent on "keeping the lights on", he estimates, rather than using tech to become more productive, and both vendors and their legion of suppliers need to alter this.
"If it stays as a cost factor and we saw that particularly through the financial crisis, they are not investing or increasing the IT budget, they are reducing it."
The cloud, the Insight exec reckons, helps businesses to slash total costs by moving from a cap-ex to an op-ex model, allowing the budget to be redeployed to drive the C-suite agenda
"[CEOs and CFOs] want to get their workforce more productive, to drive business performance improvement and make their sales force and marketing more customer-centric to secure existing clients and win new ones," says Ebermann.
This is a big step from the mostly transactional sales operation at Insight in EMEA, perhaps less so in the States, the boss agrees.
During this transition to services, channel players need to keep the plates spinning on their classic reselling business, but build a cloud managed services operation on the side.
The people to target inside customers is also changing, shifting to lines of business, the CEO and the CFO, rather than just the CIO.
According to some estimates, CIOs will lose control over the lion's share of the budget, with purchasing decisions de-centralised to a certain extent.
"It's the journey [for us] over the next two years but that is not a problem because the whole industry is moving. If we would do everything from the ground up, maybe it [would] take us too long so we'll think intelligently on how we'll bootstrap that."
It has been a few years since Insight made its last acquisition, and we ask if another is in the planning. "We'll think intelligently on how we'll boot strap that," the ex-Microsoftie repeated.
Currently, Insight offers on-premise services around Cisco including unified collaboration, VoiP, and has several managed services including software asset management, and virtualisation and data centre design and implementation.
Ebermann says it is important to deliver the service rather than resell because otherwise it remains a simple transaction, and a raft of cloudy stuff up and running in the US is to cross the Atlantic.
"If you fail to innovate, growth will plateau. And if you are not able to reinvent yourself because of the market change, like DEC you will disappear."
Presumably he doesn't think this will happen to Insight otherwise he would not have left Microsoft.
There are four "key" services when considering the cloud from a suppliers' perspective, says Ken Lamneck, Insight CEO: assessment, integration, migration and monitoring.
"We are very mature in the North America market to deliver those services on our own. You'll see us start to build those out in Europe in a staged fashion and then we'll partner where we don't have the full capability," he tells us.
The CEO mentions eightbyeight, a US-based cloudy infrastructure platform for VoiP and collaboration services that is "competing well against Cisco" and a "whole new eco-system of born in the cloud solutions".
"Box, DropBox, those are becoming key players and in some cases they are competing with SharePoint from Microsoft so Microsoft is having to become more nimble," says Lamneck.
Insight built cloud aggregation platforms in both EMEA and the US with some success in Europe but the CEO branded this was a half-way house", saying it is still a reselling business, not design or delivery.
Lanmeck says it needs someone to own the cloud biz and last month welcomed on board former IBM veep of global services Harish Krishnamurthy as senior veep of cloud services.
"He's coming from outside of the channel world, and from a client centricity point of view. He's run global sales and mid-market for IBM so he understands the client set that we are going after."
The new sales model has massive implications for suppliers - from something as fundamental as shifting sales people's commission plans to making sure they are equipped to talk cloud.
"It's a huge transformation to retrain the sales people, you don't just wake up one day and sell cloud services," says Lamneck.
"You will see additions like hiring Harish, not your typical profile of who we hire, typically we hire from a competitor. This is totally different because that is what the new world will require from us.
"You'll continue to see us tweak that and bring in people that maybe you are like 'hmm, that's different versus the traditional'. We need different skills," he says.
Constructing a bigger portfolio of managed services will not happen overnight, but neither will the shift to the cloud, with customers taking tentative steps towards a hybrid environment.
Lamneck says the cloud accounts for about one per cent of the $3.7 trillion US IT market today so there is time to make the adjustments.
"Every client is talking about cloud but not everybody is writing cheques yet, I do believe it will happen but it's going to happen slower," he tells us.
Company execs acknowledge the biz transformation in front of them is a huge leap from where the operations are today, but have no choice but to build services centres.
However given Microsoft's rebate reduction could well dampen Insight's profits to the tune of $20m a year alone, it is unlikely that the cloudy business can scale that quickly to offset those losses, certainly in the short term.
El Chan is watching developments with interest. ®
Sponsored: Minds Mastering Machines - Call for papers now open