New Fujitsu SoC designs shrink supers' power slurp
New kit will help Japanes space agency to build 3.4 petaflop beast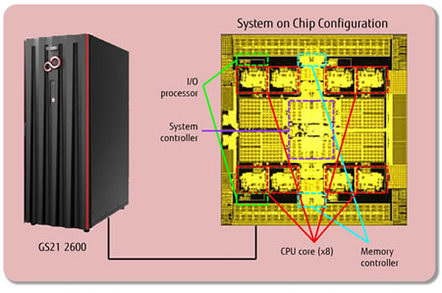 Fujitsu is pimping system-on-chip (SoC) designs for two new supers it says get 40 per cent more processing punch while slurping half as much power.
The company also says its GS21 2400 and GS21 2600 need 70 per cent less data centre space.
The SoC devices at the heart of the two servers consolidate 14 chipsets, Fujitsu says. They can run up to eight cores, a 256 KB primary cache, 24 MB secondary cache, I/O processor, memory controller and system controller.
The machines, due to ship in September, include software enhancements supporting up to ten virtual I/O configurations per cluster rather than the three configs per cluster of the current generation systems, with as many as 20,000 virtual I/O devices per config.
There's also a bunch of software enhancements: standard SQL interfaces in the GS21sx "Data Utilization Pack" providing server access to GS21 network databases and relational databases; a Web interface kit that provides mainframe access from mobile devices; and an access management kit that includes Web interface, interface design support, user authentication, and ID management.
Fujitsu has also announced that it's won a contract to upgrade the supercomputers at Japan's space agency JAXA. It's currently developing the planned 3.4 Petaflops machine, a successor to its PRIMEHPC FX10, which will have 24 times the capacity of JAXA's current super. ®
Sponsored: Minds Mastering Machines - Call for papers now open