Reg slips claws across Nokia's sexy sixties handsets, fondles flagship too
Budget contenders, premium wannabe break cover - briefly
Mmmm... Springfield Greeen
I'm less enthusiastic about the two colours - again, a radioactive "Springfield Power" green ... and an orange.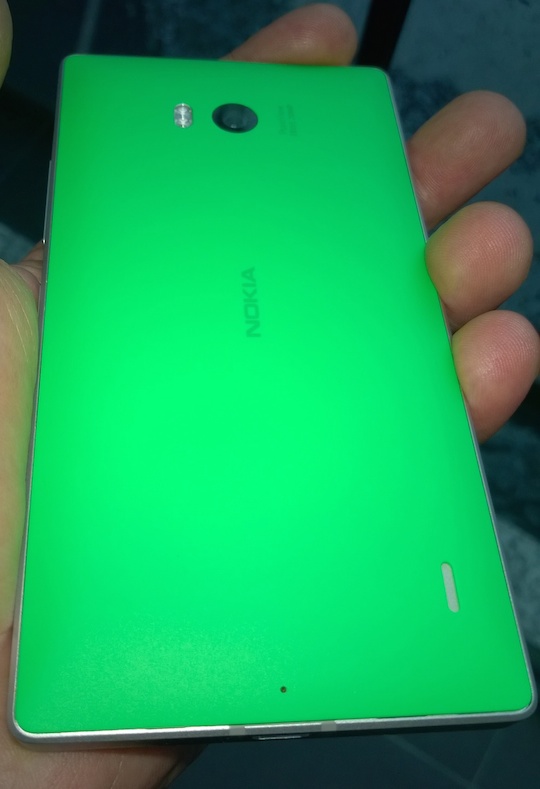 All that's missing is an engraved Shamrock.
In addition to the excellent display, two hardware features are worth noting: one good, one bad. The good: Nokia has enhanced the remarkable, best-of-breed HAAC audio recording with 5:1 Dolby output. The HAAC system (found on the 808 PureView and the Lumia1020) is a Nokia invention (white paper PDF) that captures an incredible dynamic range. 5:1 Dolby lets it play this back on a home cinema system. The imaging unit here appears to be the cut-down 21MP oversampling sensor found in the 1520 – it still excels in low light while its best asset in everyday use is wobble-free video recording. Over a year after Nokia introduced this minor miracle, the market still hasn't caught up.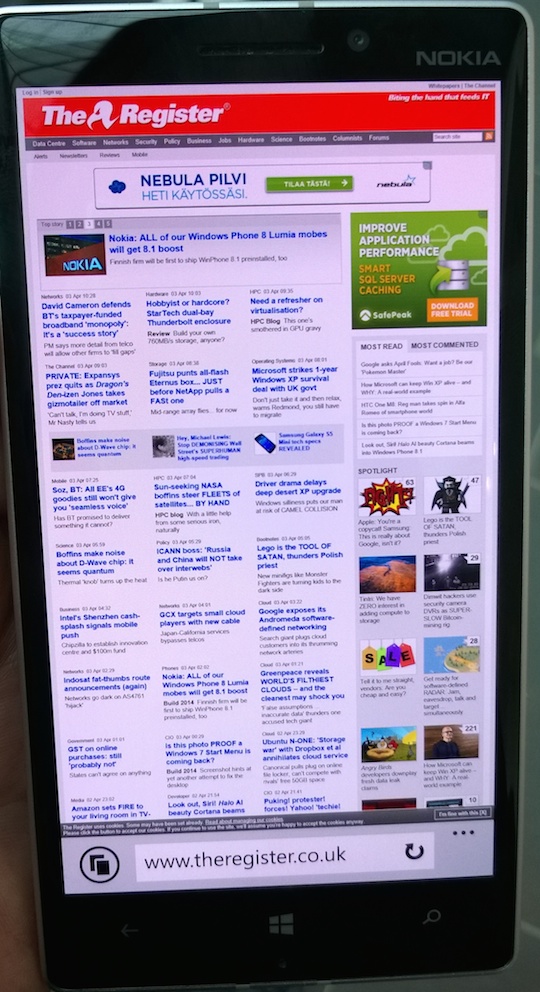 Amazingly the text is quite legible on the full HD display
The negative is that there's no room for an SD card. Even HTC found room for one in this year's One (M8) update, so even in such a bulky device it's disappointing not to find one here. Especially now that WP can run apps from the SD card, and even the budget Lumia (see above) can support up to cards 128GB in size.
Wrap
Nokia's high-end WP devices are superb, and the 930 continues the excellence. Yet the traction isn't there, perhaps because the "app gap" really matters when the manufacturer demands a premium price. Yet slowly, WP is making up some ground here. Many developer refuseniks 15 months ago (Vine, Instagram, MyFitness App, Bloomberg) have produced native WP versions. What's missing is the "long tail" – the app for the museum, or music festival that you might use once. They're pretty much guaranteed for iOS, and a fair few have Android counterparts too. Here, the introduction of a common API (Universal Apps) should begin to pay dividends eventually.
One puzzle is why the 930 will take so long to arrive on these shores: late May or early June - when an almost identical device has been on sale through Verizon in the US since January.
Specs
Lumia 630, 630 dual SIM and 635; Lumia 930
Sponsored: Go beyond APM with real-time IT operations analytics