Big Content goes after Kim Dotcom
Six studios sling sueballs at dead download destination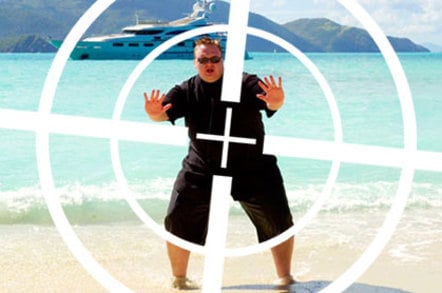 Kim Dotcom is getting all outraged again and banging the freedom-of-something gong with his usual enthusiasm after six Hollywood studios slung a sueball his way.
In a court filing you can see in PDF form here, twentieth Century Fox, Disney, Paramount Pictures, Universal Studios, Columbia Pictures and Warner Bros all take issue with Megaupload's "Uploader Rewards" program, which they say "openly paid Megaupload users money to upload popular unauthorized and unlicensed content, including plaintiffs' copyrighted television shows and movies, onto Megaupload's computer servers."
The lawsuit goes after the carcass of Megaupload Limited, plus Kim Dotcom himself. Former Megaupload CTO Mathias Ortmann is also named as a defendant, as is Bram van der Kolk who is identified as a shareholder in Megaupload, a programmer for the site and someone who "oversaw the selection of featured videos that were posted on Megavideo.com, and at one time was responsible for managing the Uploader Rewards program."
The sueball alleges that Dotcom, Ortmann and van der Kolk all made very good money out of Megaupload: taking home $US42m, $9m and $2m respectively in 2010 alone.
That the studios have made Dotcom, Ortmann and van der Kolk defendants is significant because it shows they are following the money.
Dotcom has taken to Twitter to criticise the lawsuit.
Here's a selection of his emissions.
The @MPAA repeats bogus DOJ claim that we induced copyright infringement. No.1 reward rule published on MU site: "No copyright infringement"

— Kim Dotcom (@KimDotcom) April 7, 2014
6 months before the #Megaupload raid we terminated our rewards program. It made absolutely no difference to our popularity. We kept growing.

— Kim Dotcom (@KimDotcom) April 7, 2014
.@MPAA expected MD5 hash filters to delete infringing files. One persons infringing file could be another persons legal file. #NoBasisInLaw.

— Kim Dotcom (@KimDotcom) April 7, 2014
Status update: Now it's David vs Goliath & Godzilla

— Kim Dotcom (@KimDotcom) April 7, 2014
DOJ probably demanded that @MPPA sues #Megaupload because they initiated this shitty Hollywood science fiction script of a case. Embarassing

— Kim Dotcom (@KimDotcom) April 7, 2014
Informal legal advice sought by The Reg suggests the case is not cut and dried. Litigators will need to "pierce the corporate veil" to link van der Kolk, Ortmann and Dotcom to the copyright infringement to succeed.
Whatever the studios' prospects, Dotcom's world just became ever more complicated as he now faces a legal pincer movement with the studios and the US Department of Justice each on the attack. Dotcom has opened a third front of his own in the form of a political party he hopes will take seats at New Zealand's September 2014 election. ®