Windows Phone 8.1: Like WinPho 8, but BETTER
Blog blag bug... You said WHAT would be in the OS?
Build a business case: developing custom apps
Long overdue: shortcuts
So the WP team has also conceded to user demand and introduced system shortcuts allowing quick access to controls. You can toggle Wi-Fi, Bluetooth and screen rotation lock, display brightness, and several other settings, choosing the four you want.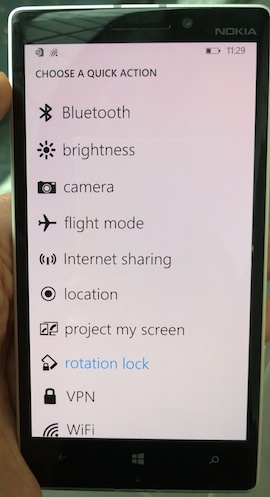 Long overdue: shortcuts
Windows Phone 8.1 also follows the Android route by dispensing with the requirement for discrete buttons. (Or the requirement for a camera button). The just announced Lumia 630 has neither. I found that in practice this made life a little more fiddly, but it's certainly going to help in the cost-sensitive end of the market, where every penny off the Bill of Materials counts.
The Calendar has been rewritten, to Microsoft's own third-party APIs, and it's much more usable now.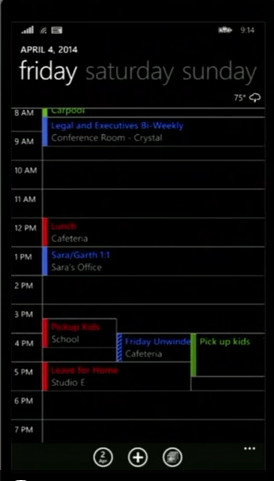 A calendar you might actually want to use? Steady on, chaps.
The People "hub" was a terrific idea, aggregating an address book with your recent contacts, your interactions with them, and what they've been posting to Facebook, Twitter or LinkedIn. It's barely changed since launch in 2010, as new social networks and fads have come along, like Vine or Instagram. At last, these can integrate into the hub.
The Music "hub" was rather less successful, adding a level of indirection between you and your music. This has been simplified in Windows Phone 8.1
The web browser has received some attention too. The ludicrous limit of six tabs has been removed. It gains a reader mode and the address box includes a reload button.
Wallpaper, but not as you know it
Anyone expecting new tile sizes or behaviour was disappointed. On large, high density displays, the Windows Phone start screen starts to look very busy, and not in a nice way.
There's no new ultra-wide tile size that fits the full width of a "three column" display in Windows Phone 8.1. Nor are there spacers, or new grouping behaviour, to de-clutter a busy home screen. Perhaps these will come in the future: the clutter is only really apparent in three column mode anyway. I'm a little surprised there isn't a new "full width" tile, the point of these being you can reach it more much more easily on a large device.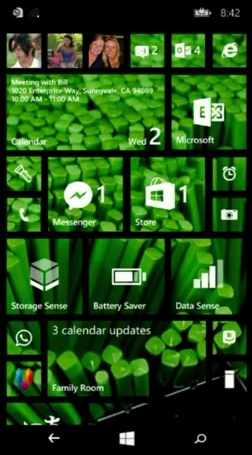 A word about the cosmetic change. It only applies to built-in system apps at the moment, and we're seeking clarification on the support for third party apps.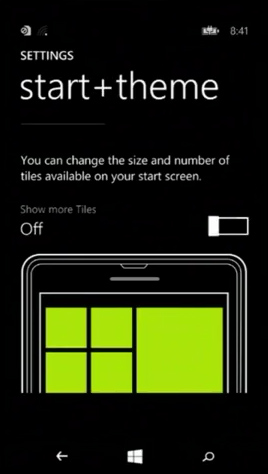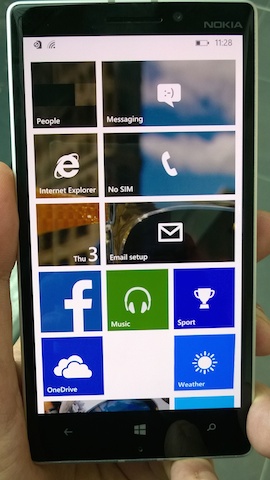 In practice - as on this Lumia 930, it looks more like this: a mixture of solid and transparent Tiles. Only built-in apps have transparency, third parties will need to support them.
So that's it. Almost.
A huge amount of time in the Windows Phone 8.1 keynote demonstration this week was taken up with Cortana, Microsoft's answer to Google Now. This is an incredibly ambitious bit of software that may, if you want, become a big part of how you interact with your phone. A lot of research and thought is evident already: you can select contacts as VIPs, so you're not being nagged about activity from distant Facebook friends, for example.
Personally, I'll be satisfied if Cortana can book an appointment in my calendar successfully and accurately, as most speech assistants fail to do this reliably.
But we couldn't test it on devices at a UK preview this week, because it wasn't installed. And it won't be operating in the UK for some time, even in beta form. This is disappointing: how long does it really take to teach a computer the Geordie accent, or West Country swear words? Months and months, evidently.
So much for "Artificial Intelligence"... ®