Driver drama delays deep desert XP upgrade
Windows silliness puts our man at risk of CAMEL COLLISION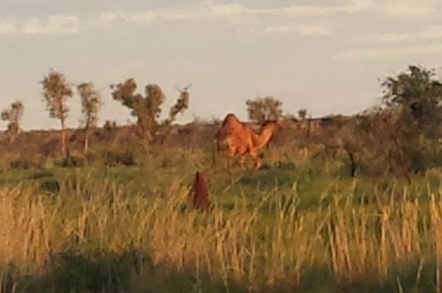 "EJ"* is a God-fearing man. I know this because, at a tricky point in my attempt to upgrade some Windows XP computers, he asked me to write a letter explaining the Lord could vouch for his words.
The letter-writing exercise was welcome because, at the time, I was tearing my hair out. The first step in my attempt to upgrade the PCs at the remote Wirliyatjarrayi Learning Centre had gone well: the Windows 7 disks provided to me by the IT team at Batchelor Institute installed the operating system with pleasing speed. When the first machine booted into W7 after perhaps 15 minutes of effort, I imagined I could be done by lunchtime and have some time for some bush-bashing.
That hope evaporated once the newly-upgraded PC decided it had no knowledge whatsoever of its WiFi card. Device Manager couldn't see it and also felt it had a wonky Ethernet and PCI driver. Searches for those and installation of drivers yielded no result. Nor did the card vendor's driver installer and utility.
Seeing as the whole point of the trip is to make sure the Learning Centre gets a better internet connection and I had at best 48 hours to do the job, this was disturbing.
Perhaps this was a problem with the first PC I'd worked on?
No. A second PC had the same issue.
Maybe it was one of those weird things where Windows wants the hardware to be freshly installed before recognising it? At this point my decision not to bring a screwdriver looked potentially fatal to the expedition. I like to travel with carry-on baggage whenever possible and screwdrivers make for awkward x-ray moments. Had my desire to shave a few minutes from the trip cruelled it?
Fortunately, a butter knife presented itself and quickly removed the single screw. Phew! Out came the card, initiating a sequence of reboot sans card, re-install card, reboot and … AARGH! Still no recognition of the WiFi card. But taking out the card at least let me get a proper look at its model number, which meant I could find a more likely driver. Which still did not solve the problem.
Cue much shaking of fists and cursing of the names Ballmer and Gates. Surely a modern operating system can figure this stuff out for me? Or is Edimax being stupid for not providing better tools? Either way, I'm fuming. And worried the expedition will fail.
Sponsored: Minds Mastering Machines - Call for papers now open