Samsung Galaxy S5 Mini tech specs REVEALED
And then there were four – report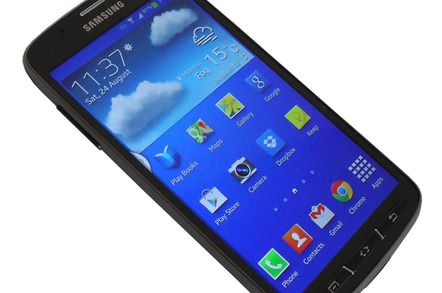 Hot on the heels of the Samsung Galaxy S5 and new Galaxy tablets we can expect the Galaxy S5 Mini, Active and probably Zoom, according to a recent report.
"All Things Samsung" website SamMobile claims to have specs for the Mini, citing a 720p resolution on a 4.5-inch screen, which would correspond to 1280 x 720 and a 326ppi. SamMobile claims a quad-core Snapdragon 400, 8MP rear camera, 2MP front-facing camera, 1.5GB of RAM, 16GB storage, an IR blaster, NFC and a 2,100 mAh battery.
The expected Active version will be ruggedised beyond the standard S5 which is IP67, probably by having a tougher external case.
It's rumoured that the S5 mini will have the serial number SM-800 and the Active will be tagged SM-870.
The Samsung tactic of spreading the Galaxy range works very well for sales through mobile phone networks, which are very strict on the number of models of phone they will sell at any one time. Networks allocate "slots" according to different types of target customer with pre-determined functions and price points.
By filling four of these slots with the S5, S5 Mini, S5 Active and S5 Zoom, Samsung can reduce the availability of rival phones and so maintain market share.
Overall this is more profitable than worrying about the S5 Mini or S5 Active cannibalising sales of the standard S5 and runs counter to the usual model of making phones more profitable through economies of scale. ®
Sponsored: Minds Mastering Machines - Call for papers now open