That's it, we're all really OLD: Google's Gmail is 10 ALREADY
They just wanted to beat off Hotmail, AOL and Yahoo!
Have some 'Office', folks
In 2006, Google took free up a gear by launching Docs and Spreadsheets, the online alternatives to Microsoft's paid-for Word and Excel on the PC. In 2011, Mountain View rolled out its shared work space, Drive.
A decade on, those installing and customiSing Docs and Drive for businesses point to the lubricating effect of Gmail.
Google partner Cloud Sherpas, which also runs a Salesforce practice, said it's easy to find Gmail champions in companies to convert Hotmail and AOL users.
It reckons more than half of the staff at companies it goes into are already familiar with Gmail, which helps grease the skids on Google Apps.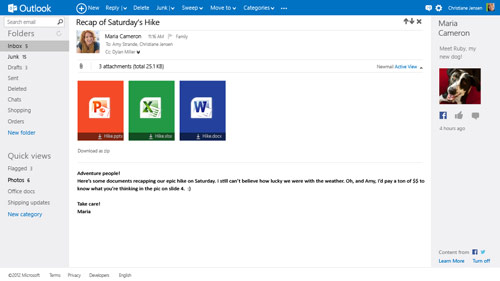 Outlook.com hustled to compete last year with attachments and Facebook integration
Doug Shepard, president of Cloud Sherpas' Google business unit said: "The employees are familiar with Gmail from their personal life. It makes it easier for an organisation to say they are moving to this tool."
Cloud Sherpas claims 2,000 enterprise users, and says its business is growing, to the point that it has rolled out 65,000 seats of Google Docs to staff. Its clients include John Lewis.
Rolling out something like Microsoft Exchange and Office – even the webby Office 365 - would have been impossible because of licensing fee charged by Microsoft.
This is dangerous, because it means Google has become a strategic email and collaboration platform not merely a provider of free web email and some spreadsheets. There's no way companies that are standardising on Google would have done so without the sign-off of top management.
"We are called in from a variety of lines in a company - sales staff, CFO, executives looking for culture change," Shepard said. "The decision is a technical decision from the CIO's office but the final decision to change the one application that every employee touches, messaging, that is a CEO-level decision. That is 100 per cent of the time."
Alex Gawley, the Gmail product manager, told The Register: "Now when we talk to businesses it's normalised they want to move their mail and calendar system to the cloud and next level is to talk about instant collaboration in Docs and groups."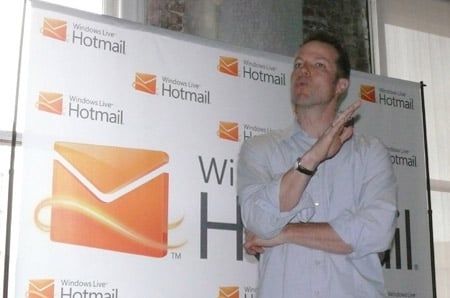 Microsoft's Chris Jones previews the "new" Hotmail in 2010
Microsoft upped Hotmail's inbox size but it missed the larger threat that Gmail was becoming to its on-prem email and collaboration business. Microsoft had been the new alternative to Lotus Notes or Novell's Groupwise, with Redmond selling the on-prem Office, Outlook and Exchange software stack. Now Microsoft was under attack.
Microsoft's response has been slow and mixed in coming: it paid sales people and partners a bounty to rip out Gmail in boxes for Exchange in 2010, has been pushing the Scroogled ads campaign to put the fear into people that Mountain View is scanning their inboxes to sell them personalised ads, and it's offered easy email migration tools - a tactic dating from the old Microsoft Exchange versus Lotus Notes days.
The flip side of the coin has been prompting Business Productivity Online Suite (BPOS), which became Office 365 in 2011, and re-branding Hotmail to as Outlook.com in the middle of 2012.
Unveiling Gmail in 2004, Google's chiefs gave the impression it was nothing more than a humble response to a cry for help from a frustrated user. They claimed it was the product of Google's 20-per-cent rule. But events suggest Google had a bigger strategy and that Gmail was just the beginning.
That strategy was to become more than a simple one-act play, a search engine, by becoming more relevant to people's lives as a communications platform.
What's next for Gmail?
Gmail hasn't changed too much in 10 years: there's been a new inbox with tabbed folders for different types of communication and yellow arrows to help highlight emails in the main inbox. Neither have seemed particularly exciting or successful, in fact arrows seems a bit pointless. We've also had native clients for smartphones and tablets, so you aren't stuck in the browser.
Meanwhile, email as a medium has been challenged by the rise of social networks with their own in-network messaging. Google has tried its hand here with Google+, and has tried to go beyond email with Wave. The latter was canned.
It seems like the email medium is stuck where it is, possibly on its back foot – given Facebook has more than one billion active monthly users.
Gawley reckons reports of the death of the email medium are greatly exaggerated. "We don't see any evidence that email is dead," he said.
He sees Gmail's future as an inbox that's a hub for different messaging systems. "We see a pretty healthy growing ecosystem. We are interested in how we build on that and extend on that. Mobile networks and messaging have their own use cases. I see a future for all of them."
Meanwhile, there's Groupwise, Notes and even Exchange shops to target. If the medium ain't broke, it seems, don't try to fix it. Hang on... ®
Sponsored: Minds Mastering Machines - Call for papers now open