Apple poking at idea of bayonet phone fittings
System could bring new lens options for iOS devices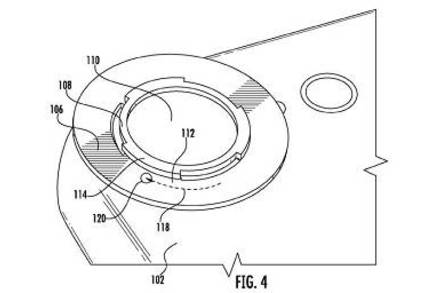 Apple has been granted a patent for a system which could bring interchangeable camera lenses to its iOS hardware line.
The US Patent and Trademark Office (USPTO) on Tuesday published patent No. 8,687,299, in which Apple describes a system for "bayonet" mounts on its handheld devices which would allow for the attachment of additional lens hardware.
Touted by Apple as a more reliable and accurate system for attaching lenses, the bayonet mount system would give iOS users a means to place external optics equipment, either from Apple or third-party vendors, on a device.
Using a method in which a device is inserted and then slightly rotated, locking the connector within an L-shaped slot, bayonet mounts are a standard interconnect in professional-grade camera equipment.
According to Apple's filing, the system would equip the iPhone or iPad camera system with a small notched ring that would run around the lens of the built-in camera. The bayonet system would then be affixed with guides that could allow the lens to be secured to the face of the device with a second set of connectors.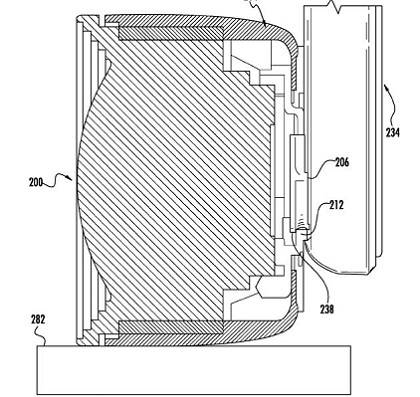 The system could allow for the connection of much larger lenses
"The attachment mechanisms may be released from the secured configuration by rotating the first attachment mechanism relative to the second attachment mechanism in the opposite direction. The attachment mechanisms may also be configured to release when force is applied to the devices coupled together by the attachment mechanisms," the patent declares.
"In this regard, a bayonet of the first attachment mechanism may travel up a ramp defined by a bayonet of the second attachment mechanism while being radially displaced outwardly against the compliance member. Thereby, the attachment mechanisms may separate such that force applied to a first device may not be fully transferred to the second device, and thereby the second device may be protected."
The patent includes illustrations that detail how such a system could allow the iPhone to support mounts for larger lenses and optics equipment that would improve the quality and range of the built-in iPhone camera hardware.
The company has given no indication abut when – or if – such a method would make its way into the iOS family of devices. Recent reports have suggested that Apple is in the process of testing new form factors of the iPhone which would sport larger displays. ®
Sponsored: Minds Mastering Machines - Call for papers now open