Facebook, you fools! Forget Oculus, you could have bought TRON-type headsets
Durovis Dive gives you the same experience for €60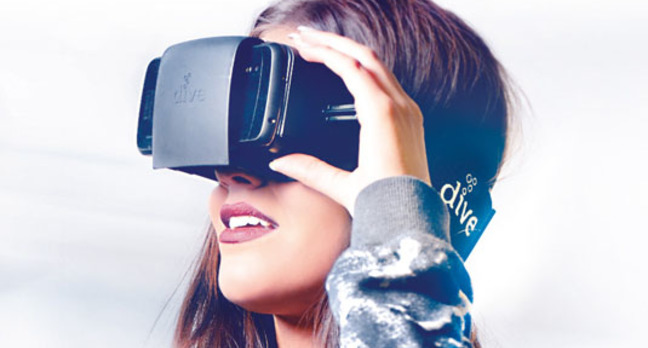 Review It's quite exciting putting on the Durovis Dive virtual reality headset, but watching someone else do it is even better as they coo and gasp at the world in which they have become immersed.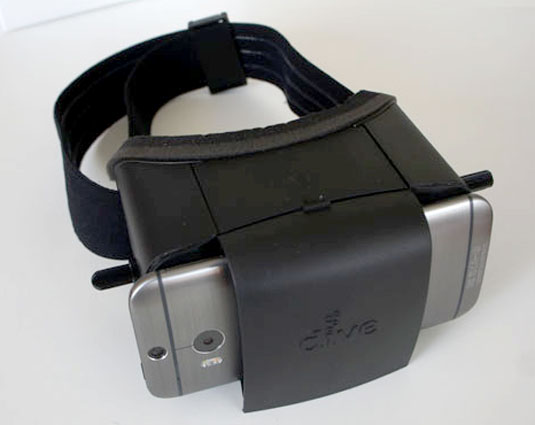 Durovis Dive set up with an HTC One M8 proved speedy with no VR lag
The Durovis Dive from Shoogee contains no electronics. As its name implies, it looks like a diving mask, but in place of the glass you slide in a smartphone. The result is an Oculus Rift-like device. Facebook paid $2bn for Oculus Rift, but this costs €60.
All the smart stuff goes on in the software. It needs side-by-side images, one for each eye, to generate the 3D effect. There are quite a lot of movies which support this format so you can just sit and watch with a virtual 200-inch screen. You can even shoot your own, but where the device really shows off is when you install one of the apps which supports the headset.
The apps rely on motion-tracking to turn the device from a 3D viewer to a fully immersive VR headset. There are lots of demos on Google Play because the 3D middleware Unity supports the Dive. The rollercoaster demo is really dramatic: as you ride the steelie you can look around to the empty seats behind you and up at the tall buildings. The effect is incredible, as there is a surreal feeling of being transported to another world.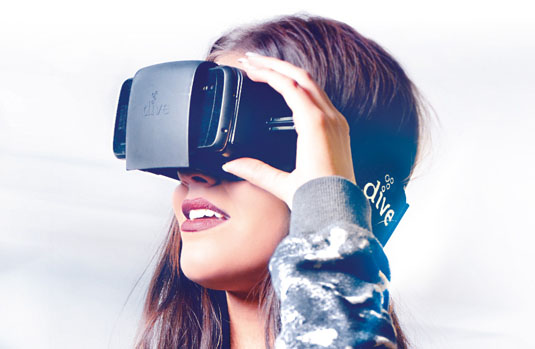 We were going to show a pic of Simon wearing the Dive but thought you'd prefer this one instead
In the early days of cinema there was an incident where patrons fled their seats when there was a shot of a train coming straight towards them. With the Dive there is a similar sense of realism. You instinctively duck and dodge, there is no perceptible latency – although I was using a particularly fast phone – and the resolution is fine, even with the screen an inch or so from your face it's not pixelated.
A problem, of course, is that with the phone strapped to your face you can only just press the touchscreen, and not in a way that would allow you to control a game. To circumnavigate this shortcoming, the apps take two routes: the game either uses head movement or asks you to pair a Bluetooth controller. You can use a PS3 controller but phones need to be rooted or jailbroken for this. There are, however, commercially available controllers and Durovis is looking at bundling options.
Obviously games are the prime use but I can see the 3D cliché of medical imaging applications working well, and it would be fantastic if Estate Agents could fly a drone around a house they were trying to sell and then send potential customers the files.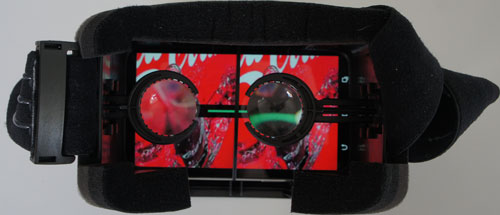 Insert face here
To configure the Durovis Dive, you open a hinged flap on the front and use one of two protective pads depending on the size of your phone. A cradle for iPhones comes in the box. I used a Nokia Lumia 925 and an HTC One M8. There is no Windows Phone software, so the Nokia was restricted to just watching 3D movies. With the phone in place, you close the flap and wiggle the phone so that the centre of the screen lines up with the divider on the headset. Then you navigate to whatever software you want to run and put the unit on your head.
To get the image looking right there are two stalks with lenses attached. These need to be slid back and forth and in and out to accommodate for where your eyes are, screen size and focus. It seems to be pretty forgiving. The positioning of the excellent speakers on the HTC One M8 helps a lot, but it would be very cool if the audio also used the head tracking.
There are some downsides. While the headset is pretty comfortable it feels a little cheap, particularly the clasp which holds the flap shut. There is an air of prototype – or at least low volume manufacture – about both the headset and the packaging. The software too feels more than a little experimental.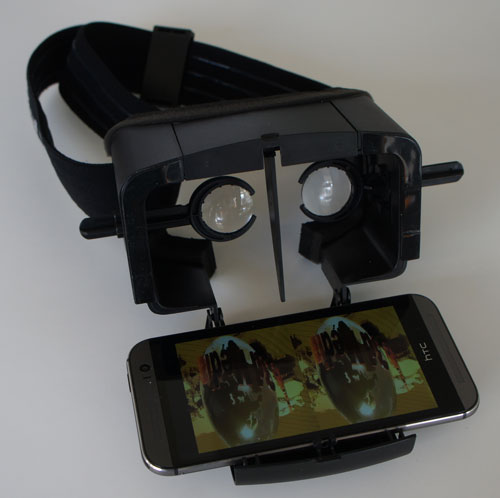 You don't have to be spot on, you can wiggle the phone when the flap is shut
The Reg verdict
Given the price and what it allows the phone to do, it's more than worth a punt in the hope that the software will improve, and even if it doesn't you'll always be able to watch 3D movies with that IMAX feel. Maybe not on the bus or tube, but certainly on a plane. And yes, there is smut available in 3D SBS format.
The Durvois Dive is only available mail order from the manufacturer in Germany, with free devices for developers. It doesn't currently have any UK distribution and this might be its downfall.
Looking at it on a website it's hard to understand why you would want one. Try it and you know instantly. Shoogee needs to find a way to get devices into shops so punters can experiment with it. ®
Sponsored: Go beyond APM with real-time IT operations analytics

Facebook, you fools! Forget Oculus, you could have bought TRON-type headsets
Strap on VR headset for mobiles.