Partner firms: Microsoft kept Surface from you for YOUR OWN GOOD
Didn't want our supply chain clogged up, says channel boss. What $9bn write-down?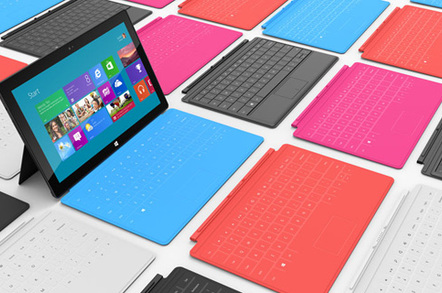 Those caring souls at Microsoft initially cut the technology channel out of the Surface supply chain because execs wanted to finetune forecasting and spare sales partners from a potential inventory pile-up.
Or so says Phil Sorgen, global partner veep, who reckons the path Microsoft took was "safer" for its legion of suppliers, even though it bewildered some of them at the time.
"The original reason was that to have a channel programme you have to have mature forecasting processes - this many devices in this country, with these configurations. The last thing the channel wants is to get left holding inventory," he said.
As it was, folk in Redmond were forced to write-down $900m worth of Surface tabs because customer demand didn't materialise. The product may have had a fighting chance out of the blocks if Microsoft had engaged partners from day one, several resellers previously told us.
And even though a select bunch of retailers and B2B tech suppliers are now on board, Microsoft continues to tread carefully over how many machines Far East ODMs build.
Microsoft said it will not widen distribution beyond the 130 authorised device-sellers currently taking the slab and has "no date" yet in place to do this.
Sorgen agreed the release of Surface and its route to market "muddied the waters" with hardware manufacturers that buy its software, and with channel partner prevented from selling it from day dot.
"It is fair to say this industry is constantly evolving. You are right, it has mudded the waters, new product innovation in traditional [markets] has muddied the waters over the years, bringing more capabilities into a platform can muddy the waters," he said.
Former CEO Steve Ballmer once referred to Surface as a design reference point to showcase Windows 8 and Sorgen said the hardware fills a role in a much wider tech landscape.
"As channel chief I have to emphasis how important it is to be a partner to innovation in this ecosystem, and we value the devices from Lenovo, HP, Dell – from all of the brands out there.
"And success for us will not be singularly defined by the number of Surface units. We are very bullish about Surface and that it plays a role in the eco system, but it doesn't meet every price point or scenario."
This political manoeuvering is just as well. According to data from Canalys, Microsoft shipped around 3.6 million Surface devices globally last year. To put that into perspective, Apple sold nearly 31 million units of the iPad...in Q4. ®
Sponsored: Minds Mastering Machines - Call for papers now open