Little pink handjob: Sony's Xperia Z1 Compact
Sometimes size really doesn't matter
Out to launch
As per the Z1, the Compact ships with Android Jelly Bean 4.3 with a KitKat 4.4.2 update scheduled for the not-too-distant future. Sitting on top of Android is Sony's Xperia launcher. This is starting to look and feel a bit long in the tooth and offers nothing like the extra functionality of Samsung's TouchWiz or LG's Optimus UI launchers, the latter being in my opinion the best OEM Android overlay current available.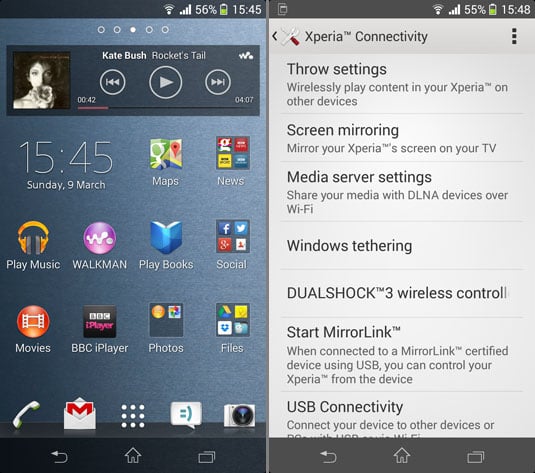 Xperia launcher short on UI features (left) but connectivity is top notch (right)
The Xperia launcher's "small apps" are arguably a bit pointless on a 4.3-inch screen and while Sony's media apps for music, video and photographs are still excellent examples of their kind, they lack the trick functionality that Samsung and LG's equivalents offer like in-window playback. Still, on a 4.3-inch display this is not the end of the world.
Everything else is similarly Z1-ish, down to the Cat4 4G/LTE cellular connectivity, NFC chip, ANT+ support, dual band 802.11ac Wi-Fi, v4.0 Bluetooth, RDS FM radio and the absence of an IR transmitter. Like the Z1, the Compact has active noise cancellation with a dedicated microphone so the call quality and the signal reception too, were bang on the money. Lest we forget that 2Mp webcam on the front not only takes a cracking selfie but can record video at 1080p and 30f/s.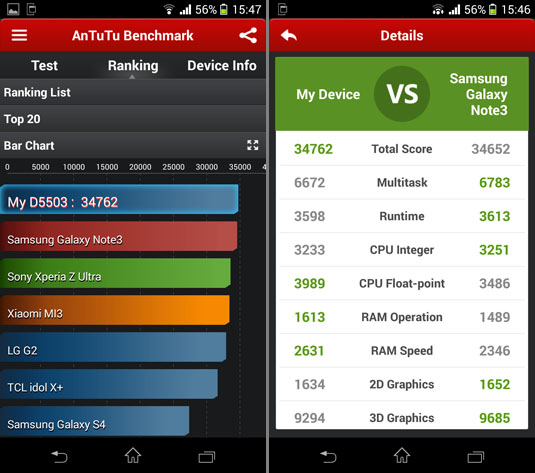 AnTuTu results reveal a seriously powerful chipset for such a small phone
The catch with the Z1 Compact is that it costs only little less than the Z1 proper – a mere £30 less if bought direct from Sony. In many respects, that seems fair, as unlike almost every other junior phone on the market, the Sony Xperia Z1 Compact isn't designed to look like a range-topper yet be cheaper thanks to a massively inferior spec.
You just have to think of anything made by Samsung or HTC with the word "mini" in its name and you'll get the idea. By contrast, the Z1 Compact offers the same flagship gubbins in all the important areas but wrapped up in a package that's easier to slip into your pocket.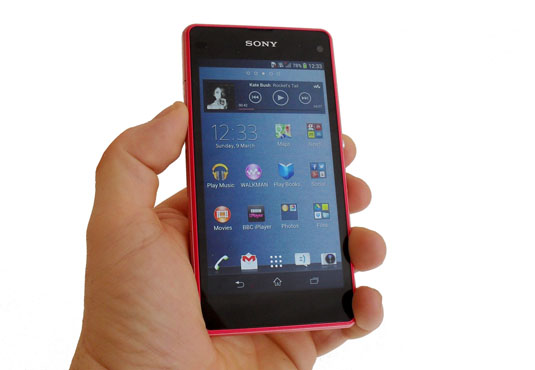 Less of a handful than any other flagship droid
Those niceties aside, personally, it's not ideal for me as my eyesight predicates a larger screen these days – style be damned. Yet for those with greater visual acuity or whose vanity doesn't prohibit the use of reading glasses, I'd say the Xperia Z1 Compact offers a compelling alternative for anyone looking at the iPhone 5S for reasons of design, size and build quality rather than operating system preference.
The Reg Verdict
Albeit without a full HD display, the Z1 Compact squeezes all the high-end technical goodies usually found in monster Android überphones into a stylish, well made and altogether rather neat little handset, both aesthetically and figuratively.
Despite being £100 cheaper than the 16GB iPhone 5S, it's not exactly inexpensive. Yet in terms of offering the maximum technical bang for the minimum spatial buck, it's the first Android phone to take the fight to the iPhone 5S's diminutive door. It's just a bit of a shame that Sony's Xperia launcher and app suite is falling behind what's on offer from other Android OEMs like Samsung and, more particularly, LG. ®
Sponsored: Minds Mastering Machines - Call for papers now open

Little pink handjob: Sony's Xperia Z1 Compact
Sony shrinks its Xperia Z1 and keeps all the good bits including the 2.2GHz quad-core MSM8974 Snapdragon 800 chipset with 2GB of RAM and the 20.7Mp camera