Little pink handjob: Sony's Xperia Z1 Compact
Sometimes size really doesn't matter
Flappy nerds
The Compact also boasts the same IP58-rated resistance to water, grit, dust and miscellaneous muck, which means flappy doors are needed to keep crud out of the SIM, micro USB and microSD card slots. Thankfully, the 3.5mm audio jack on the top manages without a plug and the flappy doors are easily opened – even by the chronically short of fingernail and patience.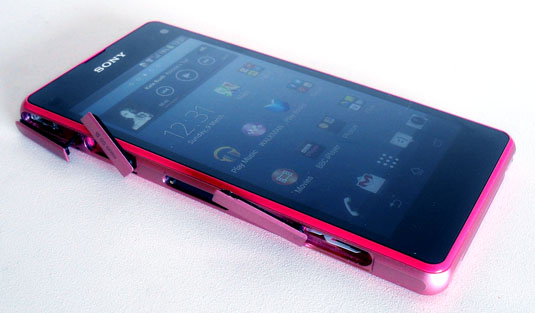 Lots of doors and a docking connector
I do have one hole to pick though. The left-hand side of the Compact houses the SIM, memory card and micro USB port cover flaps and the docking connector. That means that if the Compact is docked to charge you can't access the MHL/USB-On-The-Go equipped USB port, which seems a bit daft.
Of course, if you don't buy the Sony Xperia dock, this failing is irrelevant, and it's not as if many (any?) other Android phones even have a docking connector. The bottom edge of the Compact is taken up by a competent if not particularly loud loudspeaker, while in the lower right corner you'll find a lanyard eye, something else not found on most of the competition these days.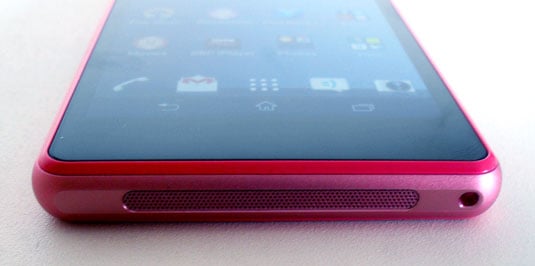 The speaker is competent but not very loud
Like the Xperia Z, Z1, Z1 Ultra et al, the Z1 Compact has a fixed battery. Rail all you like but the battle to make handset makers opt for user-replaceable batteries has, I fear, been lost. If you want one, buy a Samsung; it's just about your only choice. And I can't see Sammy sticking with the concept for long as it's one of the reasons people sometimes accuse its top-end phones of feeling flimsy and cheap.
That's something you can't say of the Z1 Compact. With its glass front, toughened plastic back (which looks and feels just like glass) and one-piece anodised aluminium frame, it's a very solid and attractive bit of kit. It's also available in four colours, including, as you can see from these photographs, a rather questionable pink.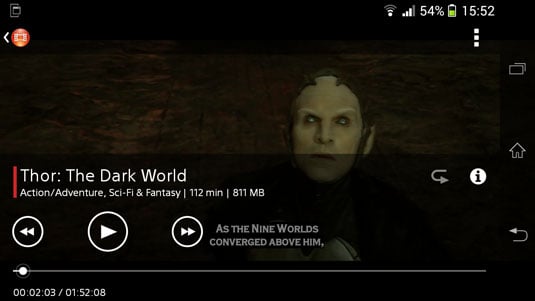 Quality video player even supports subtitles
The laws of physics demand that the Compact has a smaller battery than the Z1 but at 2,300mAh (down from the Z1's 3,000mAh) it's still a respectable capacity for a device of this size. In my experience, it will easily see you through two days of medium-to-heavy use. In tests, looping a 720p MP4 video drained the Z1 Compact's battery in nine hours 25 minutes, which in my book is rather more than acceptable, and only 30 minutes shy of what the Z1 proper managed.
Elsewhere, the Compact uses the Z1's top-shelf components, so you get the same 2.2GHz quad-core MSM8974 Snapdragon 800 chipset with 2GB of RAM and the Adreno 330 GPU. This gives the Compact more power and performance than you will ever have any real need for. There's also the same basic 16GB of storage backed up by a memory card slot.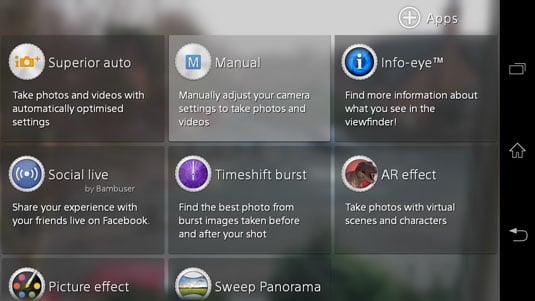 Camera app has a few tricks up its sleeve
The camera is also the same featuring a 20.7Mp, 5248 х 3936 pixel resolution, with a 1/2.3-inch sensor and an LED "flash" used in the Z1. I said more than enough about this chipset and camera in my review of the Z1, so I'll spare you any repetition other than to say it's a very powerful device that can take a very nice photograph.
Sponsored: Minds Mastering Machines - Call for papers now open