'I will not work with Facebook... they seem creepy to me'
Plus: 'I always felt that PC World had acted disgracefully towards me, and I've been proved right'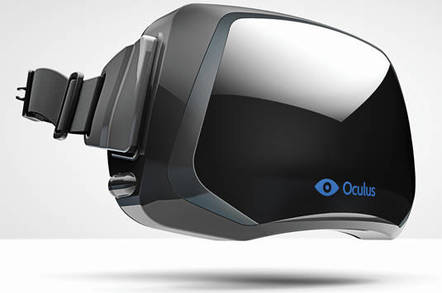 Quotw This was the week when Facebook continued to splash the cash, spanking $2bn on Oculus VR just a short while after splaffing $19bn on messaging app WhatsApp.
To justify his latest billion-dollar purchase, chief Mark Zuckerberg gushed:
Oculus' mission is to enable you to experience the impossible. Their technology opens up the possibility of completely new kinds of experiences. Immersive gaming will be the first, and Oculus already has big plans here that won't be changing and we hope to accelerate.

But this is just the start. After games, we're going to make Oculus a platform for many other experiences. Imagine enjoying a court side seat at a game, studying in a classroom of students and teachers all over the world or consulting with a doctor face-to-face - just by putting on goggles in your home.
But not everyone was so chuffed about the new status quo. Minecraft creator Markus "Notch" Persson decided not to work with the firm's Rift virtual reality headset team on a slimmed-down version of his game after the news, saying he didn't want to work within the Facebook culture.
In a blog post explaining his exit, he said:
Facebook is not a company of grass-roots tech enthusiasts. Facebook is not a game tech company. Facebook has a history of caring about building user numbers, and nothing but building user numbers. People have made games for Facebook platforms before, and while it worked great for a while, they were stuck in a very unfortunate position when Facebook eventually changed the platform to better fit the social experience they were trying to build.

I definitely want to be a part of VR, but I will not work with Facebook. Their motives are too unclear and shifting, and they haven't historically been a stable platform. There's nothing about their history that makes me trust them, and that makes them seem creepy to me.

And I did not chip in ten grand to seed a first investment round to build value for a Facebook acquisition.

I have the greatest respect for the talented engineers and developers at Oculus. It's been a long time since I met a more dedicated and talented group of people. I understand this is purely a business deal, and I'd like to congratulate both Facebook and the Oculus owners. But this is where we part ways.
And that wasn't the only thing in the tech world people were unhappy with this week. Hampton Catlin, creator of Wikipedia Mobile and CSS extension language Sass, and his husband and business partner Michael Catlin have started a boycott of Firefox after the Mozilla Foundation appointed Brendan Eich as CEO. Eich is publicly listed as a contributor to the campaign supporting Prop 8, the anti-gay marriage California ballot proposition that was defeated last year.
Rarebit, the firm founded by the developers, was set to bring a dictionary app to Firefox Marketplace, but the married couple is now boycotting all Mozilla products. Hampton wrote in a blog post:
As a married gay couple who are co-founders of this venture, we have chosen to boycott all Mozilla projects. We will not develop apps or test styles on Firefox any more.

This is in protest of the appointment of Brendan Eich to the position of CEO of the Mozilla Foundation, where he had previously served as CTO. We will continue our boycott until Brendan Eich is completely removed from any day to day activities at Mozilla, which we believe is extremely unlikely after all he's survived and the continued support he has received from Mozilla.
He explained that the company was only able to get off the ground when he was legally able to marry his British husband Michael, giving him the green card that allowed him the freedom to become a co-founder:
The overturning of Prop 8 literally was the foundation that allowed us to start this venture.

That's why it's personal for us. Brendan Eich was an active supporter of denying our right to be married and even to start this business. He actively took steps to ensure that rarebit couldn't exist!
In other ethical upsets, Apple has promised to try to tackle the lack of ethnic diversity in emojis after a spate of complaints about how most of the more human-appearing emojis are depicted as white people. A petition ahead of the release of iOS7 called on the fruity firm to be more racially diverse in its emoticons:
If you look at Apple's Emoji keyboard, what do you see? Two different camels. A smiling turd. EVERY PHASE OF THE MOON.

But of the more than 800 Emojis, the only two resembling people of color are a guy who looks vaguely Asian and another in a turban. There's a white boy, girl, man, woman, elderly man, elderly woman, blonde boy, blonde girl and, we're pretty sure, Princess Peach. But when it comes to faces outside of yellow smileys, there's a staggering lack of minority representation.
The issue was even raised on Twitter by pop-shock songstress Miley Cyrus:
RT if you think there needs to be an #emojiethnicityupdate

— Miley Ray Cyrus (@MileyCyrus) December 19, 2012
MTV's Joey Parker wrote to Tim Cook about the issue and an Apple spokeswoman responded:
Tim forwarded your email to me. We agree with you. Our emoji characters are based on the Unicode standard, which is necessary for them to be displayed properly across many platforms. There needs to be more diversity in the emoji character set, and we have been working closely with the Unicode Consortium in an effort to update the standard.
And security commentator Bruce Schneier was also ticked off this week, taking issue with IBM's open letter denying it handed data over to the NSA. According to Schneier, IBM's wording of the denial, such as saying it didn't hand information over to NSA "under PRISM", has left Big Blue wiggle room to hide what it did hand over. He said:
We know you haven't provided data to the NSA under PRISM. It didn't use that name with you. Even the NSA General Counsel said: "PRISM was an internal government term that as the result of leaks became the public term." What programme did you provide data to the NSA under?

It seems rather obvious that you haven't provided the NSA with any data under a bulk collection surveillance program. You're not Google; you don't have bulk data to that extent. So why the caveat? And again, under what program did you provide data to the NSA?
He also argues that IBM has played a game of geographical semantics to hide what went on as well:
Okay, so you say that you haven't provided any data stored outside the US to the NSA under a national security order. Since those national security orders prohibit you from disclosing their existence, would you say anything different if you did receive them? And even if we believe this statement, it implies two questions. Why did you specifically not talk about data stored inside the US? And why did you specifically not talk about providing data under another sort of order?
And finally, a man has triumphed in the UK's Supreme Court after a 16-year legal battle over a laptop he bought at PC World. Richard Durkin attempted to buy a laptop in 1998 with just one requirement - a modem. As the sales assistant was unsure about the model's specs, they said he could take it away and bring it back the next day if there wasn't any modem. They took a £50 deposit and signed him up to a credit agreement.
Naturally, the laptop didn't have a modem so he tried to return it the next day. The store manager refused to accept the laptop back and kept him on the credit deal. Durkin managed to sue PC World to get his deposit back but couldn't shake the credit agreement. Even though he no longer had the laptop, HSBC-owned HFC Bank, the lender, kept demanding payment, with the result that Durkin got a black mark on his credit score.
After being marked as a defaulter, Durkin went to sheriff's court in Aberdeen where he was awarded £116,000 in damages, but that decision was overturned when he tried for a higher payout in a court in Edinburgh. Eventually, he got the right ruling in Supreme Court in London, but the court was only able to award him £8,000 because of a legal technicality. Durkin said:
Although I am disappointed that the supreme court was unable to restore to me the full damages awarded by the sheriff – even though it was clear they were sympathetic to my position – this decision is a great victory for all consumers, and I am proud to have been the driving force behind it.

Taking a case to any court is a huge stress, but taking it to the highest court in the land with all the risks that go with it was the most stressful thing that anyone could voluntarily put themselves through.

But sometimes you have to do what is right and not what is easy. This case was not all about me – it was about principle for all consumers. I always felt that PC World and HFC Bank had acted disgracefully towards me, and I have now been proved right. ®
Sponsored: Minds Mastering Machines - Call for papers now open