Zombie Nortel grabs Cisco by the neck, again
Spherix claims patent rights over practically every network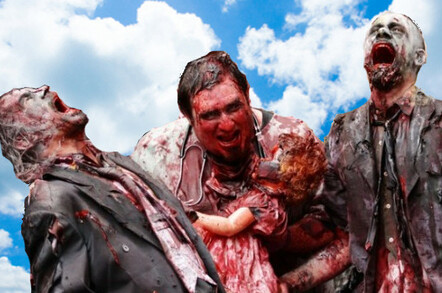 Cisco must by now be getting sick of acting as defender-by-proxy of the entire computer networking industry, with yet another pile of ex-Nortel patents being wrapped up in a lawsuit delivered to San Jose.
Spherix, once a biotech and now a patent toll-collector, picked more than 100 former Nortel patents from troll-in-chief Rockstar, with Rockstar advising the downstream troll on which companies it should target.
The eleven patents covered by the new lawsuit, filed in Delaware on March 24, cover such a wide range of capabilities that it's impossible to view this lawsuit in any light other than it being an opening gambit which, if successful, would see Spherix levying tolls on practically any network vendor. Here's the list:
Spherix's complaint alleges that "the vast majority" of Cisco's switching and routing revenue is generated "by products and services implementing technology that infringes the asserted patents". For example, everything that implements IS-IS Incremental SPF (shortest path first) infringes a Spherix patent, as does any product implementing Cisco's FabricPath topology management.
With Cisco's CRS-X and IOS XR software in line over virtualisation, the lawsuit seems to El Reg to be a threat to more than just Cisco. ®
Sponsored: Minds Mastering Machines - Call for papers now open