Molyneux: Working at Microsoft is 'like taking antidepressants'
Legendary game dev prefers the indie life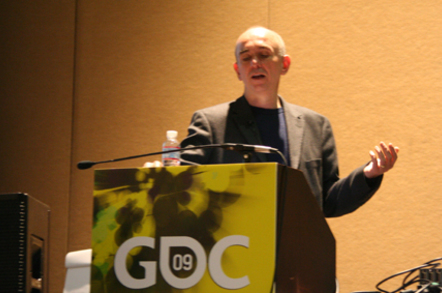 Game Developers Conference Legendary game producer Peter Molyneux has claimed that working on Microsoft is like being dosed up on antidepressants.
The Populous creator launched a bizarre attack on the corporate safety net offered to Microsoft workers – claiming that life at an indie developer is more creative.
Molyneux freed himself from Redmond's grasp back in 2012 and went on to found the developer 22Cans, which is currently working on Godus, a god game in the mould of Molyneux's most famous creations.
"I left Microsoft because I think when you have the ability to be a creative person, you have to take that seriously, and you have to push yourself," he told gaming biz website Gamasutra at the Game Developers Conference this week.
"Pushing yourself is a lot easier to do if you're in a life raft that has a big hole in the side, and that's what I think indie development is. You're paddling desperately to get where you want to go to, but you're also bailing out.
"Whereas if you're in a big supertanker of safety, which Microsoft was," Molyneux continued, then that safety is like an anesthetic. It's like taking antidepressants. The world just feels too comfortable."
Molyneux has been giving a number of interviews in recent days to promote Godus. Despite his promotion of the indie life, he has also predicted that indie game studios would soon die a death.
"What I'd say is, enjoy this time, because it won't last," he muttered to GameSpot. "Don't think we're going to be all indies for the next five years - these things go in cycles, just like in the music business. You have a time where punk is big, and then you have times like now, where everything is manufactured."
Confused yet? ®
Sponsored: Minds Mastering Machines - Call for papers now open