Candy Crush King sees IPO go sour as stock price heads south
Games maker goes full Zynga in trading debut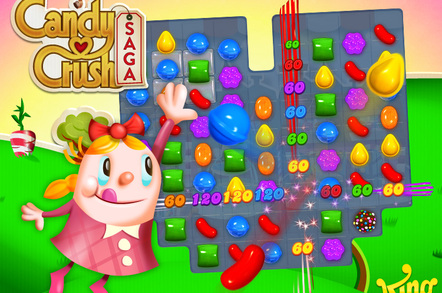 Mobile games firm King Digital failed to take the stock market by storm Wednesday as the firm's initial public offering (IPO) saw its stock price decline by more than 15 per cent at close of trading.
The company made famous for its Candy Crush mobile game had been seeking a valuation of roughly $7bn wen it offered its shares on the market at an estimated cost of $21-24. Opening at a hopeful $22.50 share price, the company hoped that investors would buy into its vision for the mobile games market.
Unfortunately, Wall Street was hardly sold on the freemium games developer. In its first day on the market the company saw its stock fall by more than 15 per cent over the course of the day. By after hours trading Wednesday afternoon, King's stock was sitting at $19 even.
While most famous for Candy Crush, King Digital has developed a number of other titles for the iOS and Android platforms, some of which have performed well. According to the Apple iOS App Store, King titles Farm Heroes Saga, Pet Rescue Saga and Papa Pear Saga were all among the platform's Top 50 grossing games.
The games use a 'freemium' model, meaning they can be played at no cost with premium and add-on items being sold through micro transactions. The company said in its SEC filing that it logs more than 1.4 billion game plays every day.
"Casual gaming is large and growing quickly, driven by key technology and consumer trends, creating the potential for leading entertainment franchises to emerge from the category," the company told the SEC in its filing.
"The proliferation of mobile devices is dramatically expanding the global gaming audience, much of which is attracted to casual titles."
The company has been known to be fiercely protective of its brands, going so far as to attempt to trademark the word "Candy" in software titles.
The lackluster performance of the IPO is reminiscent of the 2011 Zynga public offering. Like King this year, Zynga at the time was pitching Wall Street on a social gaming model based on micro transactions through social and mobile platforms.
Zynga similarly fell short in its debut, with shares falling by 5 per cent in the company's first day on the market. The company was later sued by investors who accused the firm of misleading them on the company's finances. ®