Facebook's Open Compute papa leaves 'Friends' behind to set up optical storage firm
Frankovsky goes after cold data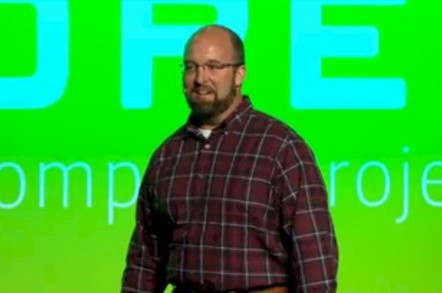 Facebook Open Compute guru Frank Frankovsky is leaving to found an optical storage startup focusing on cold data.
Frankovsky is the man who turned Facebook into a commodity barebones box buyer of servers, which he and his team designed and made available to everybody through the Open Compute Project. The project was announced in 2011 and has reportedly saved Facebook $1.2bn in hardware costs.
At Facebook he was VP for hardware design and supply chain operations and effectively ran a margin-killing operation for branded mainstream server suppliers with far-reaching effects, such as, arguably, IBM selling its X786 server business to Lenovo.
OCP is working on storage arrays and is expected to arrive at a new and significantly lower-priced array. It's looking at networking with an open switch concept – watch out Cisco.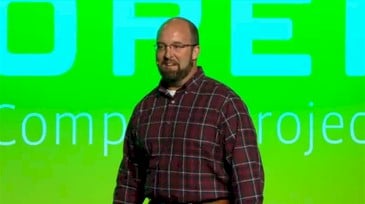 Frank Frankovsky
Gigaom reports that Frankovsky is forming a startup looking at storing cold data on optical media, using disk blades that could be numbered in the 1,000s.
In January, Facebook unveiled a Blu-Ray jukebox rack system to store archival data, such as old photos, which featured:
42U rack tower with 1PB capacity
10,000 3-layer 100GB Blu-ray disks
Robotics to transfer disks to drives and back
17-18 seconds data access latency
240MB/sec aggregate read rate
50-year data durability
To get optical storage costs down to archival tape level's will require an increase in optical media storage density. Frankovsky thinks there are ways to boost both density and throughput.
Sony and Panasonic have plans to extend Blu-ray capacity to 300GB by 2015 and go further to 500GB and 1TB disks in an unspecified timeframe. The two suppliers envisage large scale systems using optical disk cartridges to store archive data more effectively that tape libraries.
Frankovsky stays on as the OCP board chairman and president but as an independent member.
With his track record Frankovsky's as yet unnamed startup - Optical Rift? (we jest) - should have comparatively little trouble in raising seed capital to develop a prototype system. ®
Sponsored: Minds Mastering Machines - Call for papers now open