Stop skiving: Computers can SEE THROUGH your FAKE PAIN
Local football will never be the same again...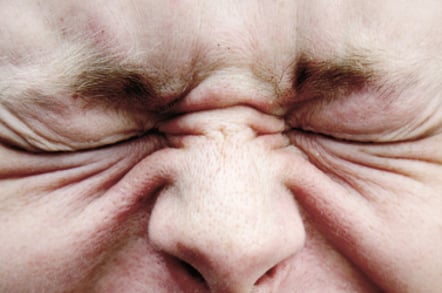 Canadian boffins have designed a computer program that can recognise the signs of real pain on a person's face more accurately than a human being.
The clever system is able to tell when human beings are faking agony, a development which could prove invaluable to football referees dealing with melodramatic players.
However, the program will be of limited utility to bosses dealing with sickie-pulling staff, because it relies on analysing facial expressions rather than the pained tone of a person's voice.
Kang Lee, professor at the Dr. Eric Jackman Institute of Child Study at the University of Toronto, is a senior author on the study. He said: "Humans can simulate facial expressions and fake emotions well enough to deceive most observers. The computer's pattern-recognition abilities prove better at telling whether pain is real or faked."
His team found that there was only a random chance that humans could distinguish between real agony and play pain.
Even after they were trained to look out for the signs of pain, they were only able to boost their accuracy to 55 per cent.
The computer thrashed humanity, with an accuracy result of 85 per cent.
"In highly social species such as humans, faces have evolved to convey rich information, including expressions of emotion and pain," Lee continued. "And, because of the way our brains are built, people can simulate emotions they're not actually experiencing – so successfully that they fool other people. The computer is much better at spotting the subtle differences between involuntary and voluntary facial movements."
The team claim their discovery has the potential to produce "behavioral fingerprints of the neural-control systems involved in emotional signalling".
So what should you look out for when trying to suss out whether your pseudo-sore chum is faking it?
Well, the most obvious sign of a pain pretender is in their mouth, which opens with "less variation and too regularly" as the play act the signs of agony.
"Further investigations will explore whether over-regularity is a general feature of fake expressions," Lee added.
The team suggested their system could be used to detected other "real-world deceptive actions" and find an application in homeland security, psychopathology, job screening, medicine, and law.
If the study was conducted in the UK, the researchers would inevitably discuss using it to chuck lazy folk off the dole.
"Our computer-vision system can be applied to detect states in which the human face may provide important clues as to health, physiology, emotion, or thought, such as drivers' expressions of sleepiness, students' expressions of attention and comprehension of lectures, or responses to treatment of affective disorders," said Marian Bartlett, research professor at UC San Diego's Institute for Neural Computation and lead author of the study.
The paper is called "Automatic Decoding of Deceptive Pain Expressions" and is published in the latest issue of Current Biology. ®
Sponsored: Minds Mastering Machines - Call for papers now open