HP exec: 'It's our GOD-GIVEN right' to rule the world of biz fondleslabs
Raft of tabs for suits to hit distribution channel by end of year, we're told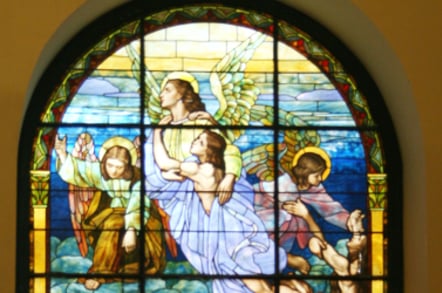 It is HP's "God-given right" to take control of the business tablet space given the company's standing in the notebook and desktop client market, according to colourful exec Jos Brenkel.
To date, HP hasn't made a dent in Apple and Samsung's mammoth share of the overall tablet computer market: after all, slabs aimed at companies and their staff account for mere single-digit percentage points of that lucrative cake.
But crystal-ball-gazers at IDC forecast business-to-business fondleslab sales will grow to about one fifth of the whole market by 2018 as consumer segments become saturated. HP says it is priming itself for this shift.
"On the tablet side, we've only got mainly consumer tablets but the whole swing is to commercial," said Brenkel, senior veep for worldwide sales strategy in the Printing & Personal Systems (PPS) Group.
"In the consumer tablet market, there is no money to be made unless you own the ecosystem, which we don't," he added.
Looking across HP's portfolio, only the second-generation HP ElitePad 1000 is aimed at business users – and this device has been beset with availability issues, although distributors told us this is due to demand outstripped supply.
Ever since HP and Microsoft were burned by their respective TouchPad and Surface pads, both have forecast conservatively, our sources reckon.
Brenkel, meanwhile, reckons availability is starting to improve, as has the robustness of the add-on jacket battery that allows the device to run for longer.
And more biz-to-biz-specific slabs will hit the market by the year's end, although none were unveiled at the HP Global Partner Conference in Las Vegas today.
"In the commercial space, it's our God-given right [to be the market leader], so the emphasis is on changing the roadmaps to put in much more commercial [devices]," Brenkel said.
Only customers, and to a lesser extent partners, will decide if the Almighty will smile down on HP. Lenovo – now the biggest shifter of PC tin and already a top-five tab player – may have something to say about that, too. ®
Sponsored: Minds Mastering Machines - Call for papers now open