Apple to switch HUMAN iPhone-juicer-fiddlers with ROBOTS – report
Soon only Miserable Marvins will build its batteries: sources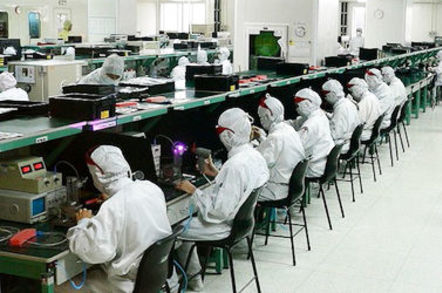 Apple is preparing to replace the worker drones on its iPhone battery production line with robot replacements.
According to industry sources in Taipei, Apple will automate its battery production later this year. It has already automated the manufacture of iMacs and Mac Pros.
Younger Chinese workers are becoming less and less willing to work on depressing production lines, while the minimum wage is rising, both likely factors in Apple's decision to draft in robots with longer attention spans to do the dreary job of building batteries.
China is still the top choice for siting a production line, because of its pliant workforce who generally avoid strikes, the Digitimes continued.
Last year it was revealed that Apple was planning to splurge $10bn on robots to beef up its production process.
However, it was previously claimed that iWorkers on Foxconn production lines would be entirely replaced by robots in 2014, which is a prediction that has not yet come to pass. ®
Sponsored: Minds Mastering Machines - Call for papers now open