Boffins working on debris float models to track MH370 wreckage
China claims its plane saw 'two relatively big floating objects with many white smaller ones'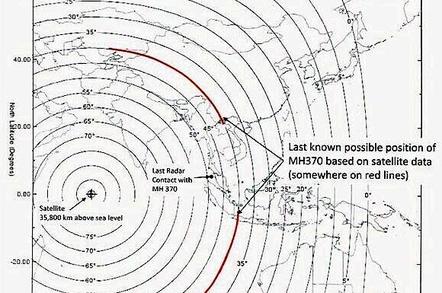 UPDATE Scientists from Australia's Commonwealth Scientific and Industrial Research Organisation (CSIRO) have lent their talents to the search for missing airliner MH370, by developing models to predict where wreckage may have drifted.
Objects held to be "credible" candidates for pieces of the plane were spotted by satellite on March 16th. Australian authorities subsequently despatched planes, merchant ships and navy vessels to the region of the Southern Ocean where the objects were observed.
Those efforts have so far had little success. The Australian Marine Safety Authority (AMSA) reports that on Saturday "a number of small objects … including a wooden pallet" were spotted "within a radius of five kilometres." A Royal New Zealand Air Force (RNZAF) plane dropped a "datum marker buoy to track the movement of the material" and ships were directed towards towards that buoy.
But AMSA's reports of Sunday's search do not mention further sightings of floating items, despite the fact the French Foreign Ministry on Sunday reported French satellites had detected floating debris in the target area and the nation had "decided to mobilize additional satellite resources to continue research on the identified area." Chinese satellites have also spotted items deemed worth investigating in the search area, leading the nation to send two aircraft to Perth to assist in the search effort.
Today (Monday March 24th), that effort will see ten aircraft return to two search areas in the Southern Ocean, although AMSA is talking down their prospects saying the "weather forecast in the search area is expected to deteriorate with rain likely."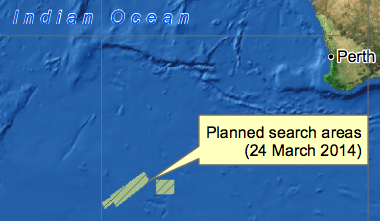 Planned search areas for March 24th
Enter CSIRO, whose research scientist David Griffin says the search area is prone to "turbulent eddies" and other phenomena that could have carried debris hundreds of kilometres from the point of impact at a rate of about 25km a day. But by using satellite-derived information on currents, as Griffin explains in this interview, CSIRO can develop models that should make it easier for ships to predict where debris spotted by plane will float to by the time they arrive.
Griffin said he "is not confident" these methods will work every time, because "it is a big ocean".
"But once we get one sighting we can assist in keeping track of where it is."
With AMSA saying "A number of Chinese ships" are approaching the search area, any assistance will doubtless be welcome. ®
UPDATE 05:45 GMT State-run Chinese media outlet Xinhua reports that "The crew of a Chinese IL-76 plane spotted some suspicious objects in the southern Indian Ocean on Monday while searching for missing Malaysia Airlines Flight MH370 off Australia."
"The crew has reported the coordinates -- 95.1113 degrees east longitude and 42.5453 south - to the Australian command center as well as Chinese icebreaker Xuelong, which is en route to the sea area."
The objects are described as "two relatively big floating objects with many white smaller ones scattered within a radius of several kilometers."