New WebCL toolkit hooks browser apps into GPUs – and that's not good news for Apple
Hey mum, what was an 'App Store'?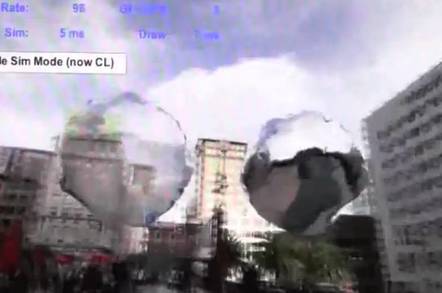 Vid Web browsers apps on PCs and smartphones will be able to hook directly into the system's graphics chip and boost performance, thanks to the first WebCL release.
WebCL 1.0 is a set of JavaScript bindings to the OpenCL graphics programming standard, its developers the Khronos Group announced today: the software interface lets in-browser apps use hardware acceleration built into the GPU, as well as the multiple cores of a CPU, to drive on-screen output. The release follows other OpenGL-compatible developments the group revealed on Monday.
"This a big deal because now you'll be able to access everything on the web, and stuff that hadn't even shown up yet, and get it to execute fast and smooth," said Jon Peddie, president of analysts JPR Tiburon. "That's what's going to compel consumers to get behind this thing."
The Khronos Group has produced a video showing how this work translates into a real-world example, by allowing much faster rendering times – up to twenty times faster in testing according to the organization's president, and vice president of mobile ecosystem at Nvidia, Neil Trevett.
But WegGL and CL could also cause trouble for some mobile app marketplaces' cash flow, he warned. After all, if you can get as good performance from an in-browser application or game as you can from native code, then sales of standalone apps could be hit.
"The one mobile platform that hasn't implemented WebGL, and is not exposing it directly to developers, is Apple," Trevett told a press briefing at the Games Development Conference in San Francisco today.
"One might argue that Apple has one of the largest app store revenues. But in the end, the web is the one platform that you can't really fight in the long term." ®
Sponsored: Minds Mastering Machines - Call for papers now open