It's not you, it's EE: UK mobile network goes titsup, blames gremlins
Everything Everywhere ... NOT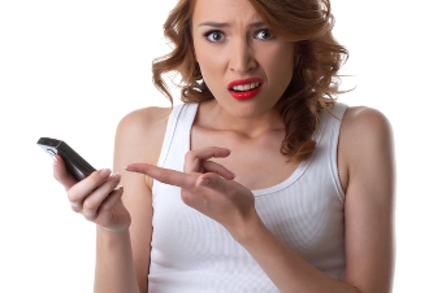 Updated Brits on the UK cell network EE are reporting dodgy connections, delayed text messages and other problems tonight. Some users are unable to make calls even though they have a full signal strength showing on their mobiles.
According to handy uptime monitoring website downdetector.co.uk, most of the complaints are coming in from London, Birmingham, Manchester, Leeds, Nottingham, Glasgow, Sheffield, Liverpool, Leicester, and Bristol. It's suggested the service outage is mainly affecting peeps on the 4GEE plan. The loss of connectivity started between 1800 and 1900 GMT, we're told.
Technical support staff for the network, which was formed out of a merger of the Orange and T-Mobile UK brands, wrote at 2011 GMT today:
We have an issue with the EE network at the moment which may be causing some problems. We're really sorry to anyone this is affecting, and we're working hard to resolve it as fast as we can. Myself or another member of the community team will update this thread with more info as soon as we have it.
As The Reg went to press, an EE spokesperson told us: "Technical issues are causing some of our customers to experience problems with their signal. We are working hard to resolve the issue so normal service is resumed as soon as possible. We apologise for the inconvenience caused to our customers."
Our readers were quick to alert us to the downtime affecting the network formerly known as Everything Everywhere.
@TheRegister My texts have started timing out. Friends in High Wycombe have no service and a friend in Cardiff has just mentioned problems.

— Rob Penn (@Patchworkcow) March 19, 2014
@TheRegister EE custserv are saying their whole network has crapped out nationwide, 2 friends SIMs not working, mine is fine though atm.

— Rob Penn (@Patchworkcow) March 19, 2014
@chinnyhill10 @TheRegister we're out in #Cambridge - both ex-Orange.

— Matthew Adams (@ythos) March 19, 2014
Although, we must stress not everyone is affected.
@TheRegister No problems at all on 4G EE in South Bristol.

— Michael Bond (@CodingMonkey) March 19, 2014
"I do love the irony on this happening on a Wednesday," noted one bod on the technical support forums. "For years Orange (and now EE) have been providing half price discounts for cinema, food etc [on Wednesday nights]. Now their service goes out for an hour, something they clearly don't want."
Meanwhile, whoever is manning the EE Twitter feed tonight is trying to find the funny side of the mega-outage. ®
There seems to be some Gremlins in the system - we're aware of a network outage at the moment & working hard to fix. pic.twitter.com/MDQHO3vURY

— EE (@EE) March 19, 2014
Updated to add at 0745 GMT, March 20
EE claims its network is now mostly back on its feet after a rocky night, although people are still reporting some troubles with their phones. Switching your mobile or tablet off and on again may kick the connection back to life. We're interested to know how this happened – if you can shed any light, please get in touch [PGP key, fingerprint 1FD3 81D9 6344 FC49 9C5F FBC1 0EC6 E70E 3EB7 9D2E].
Update at 1440 GMT
A Reg reader gets in touch to share this screenshot, which he says is a message from EE telling him to, er, turn his phone off and on again.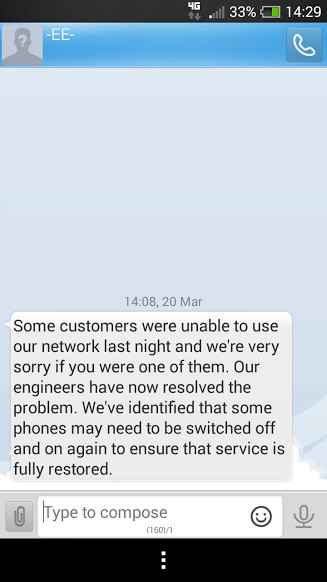 "Have you turned it off and on again?"
Sponsored: Minds Mastering Machines - Call for papers now open