No more squeaky bum moments, please Microsoft - partners beg
Global partner boss Sorgen vows to 'slow incentive changes'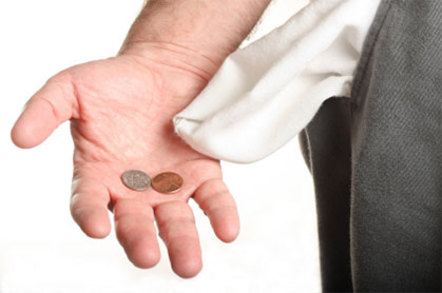 If there's one thing that can ruin a channel exec's week, it is arriving to work on a Monday morning to be greeted by an official document from a vendor warning of pending rebate doom.
But that is exactly what Microsoft's top tier enterprise partners say they've faced in recent years - a double helping of swinging cuts to fees paid out on license sales to bulky customers.
A blow was dealt in late 2011 when two-thirds was hacked off the cash paid out on volume deals with global or enterprise accounts, an area Redmond felt it already has strong customer coverage.
Then Microsoft dropped another margin bomb last summer, paying more fees on cloudy wares but reducing them from on-premise licensing deals. The problem is that some partners aren't yet geared up to make most of the cloud and the net is a loss of fees to some.
The world is changing - maybe not as quickly as the cloud zealots would have us believe - and striking this balance between rewarding old era tech consumption models and new ones is a delicate act.
Phil Sorgen, appointed global channel chief at Microsoft last summer, is aware that partners have been kept busy reacting to the financial slicing and dicing, and has vowed to change this.
"One of the things we'll try to focus on in a fast moving market is finding that harmonious balance between stability and the important changes candidly that they [partners] want and we want to stay agile in this market," he told El Chan.
Microsoft said it had given "forward visibility" of the changes it is making but the dramatic shift left tanker-sized LSPs unable to adapt quickly enough.
Just look at the impact reseller goliath Insight, for example, which has suffered more publicly than most due to its stock exchange listing, and has large business truncating licences, meaning it has been at the sharp end of cuts.
Sorgen says it will have programmes running in the market for a "longer" amount of time "so that operationally it's not such a big transition on a year-over-year basis".
"We'll have a higher bar for change in those programmes, understanding and having listened to the LSPs specifically about the time it takes for them to enable their systems - I'm not just talking technology - but compensation, sales alignment, roles and all that."
He reckons that laying out the "principles that guide decision making" can help partners plan, and says work is underway to "simplify" the programmes and the sales process.
A partner quoting tool has been released in some parts of the world - in the past LSPs were forced to produce a price sheet for a customers and Microsoft had to sign that off manually.
"When they processed MS agreements through their regional operation centre we set up a task force between Microsoft and the LSP.
"We identified many bottle necks that were causing them incremental cycles because that drives up their costs as well as our incremental cycles, and we streamlined the processes," he adds.
The specific blockages were caused as the contract was processed from validation to billing to authorisation, said Microsoft's corporate veep of the worldwide partner group.
Multiple high level Microsoft partners we contacted told us that more consistency and predictability on the channel programme was welcomed.
"Microsoft typically tunes the programme every fiscal, our biggest challenge has been having a stable horizon to predict our incomes together," said one LSP. ®
Sponsored: Minds Mastering Machines - Call for papers now open