Pivotal: So who fancies skinny-dipping in our 'Business Data Lake'? PS: It'll cost you
Tries to tempt more into its Hadoop pond with Pivotal HD 2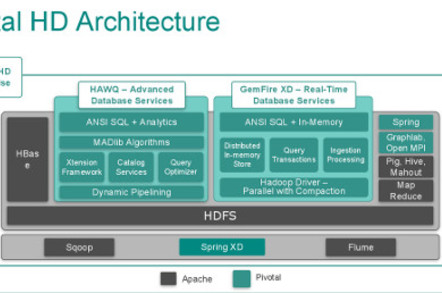 EMC and VMware's spin-off Pivotal is trying to make money from a bevy of open-source big-data-crunching technologies by making their most complicated aspects disappear.
With the launch of Hadoop distribution Pivotal HD 2.0 and analytics engine Pivotal GemFire XD on Monday, the company has created a clutch of technologies that let organizations make sense of large amounts of data without having to deal in the hard-to-master traditional Hadoop interfaces.
The two bits of software together give companies an in-memory SQL data store that sits upon data stored in the Hadoop File System (HDFS), and an engine called HAWQ that can query data via SQL.
In addition, HAWQ has gained integration with GraphLab OpenMPI and MADlib – software that gives it an integrated set of analytical algorithms for analyzing relational data and also graph analytics. It has also added compatibility for queries in R, Python, and Java as well.
Pivotal said in a press release that the launch of these products would "constitute the foundation for the Business Data Lake architecture" – this language caused our brain to melt and leak out of our noses in the form of a sad beige paste.
Marketing-aside, the technology is Pivotal's response to the proliferation of structured and unstructured data types within an organization. Pivotal hopes that companies will spend big for the pleasure of being able to ingest, store, analyze and query data within a single stack of integrated software modules. (Pivotal doesn't disclose prices and encourages people to get in touch, so it's using a how much can you afford enterprise pricing strategy.)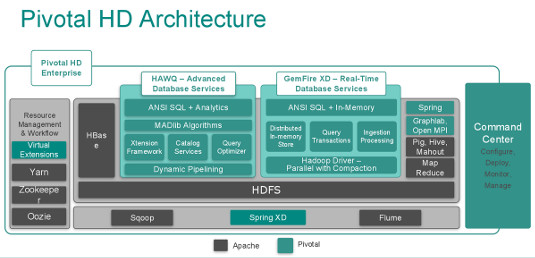 Pivotal's gooey blend of open source and proprietary tech
It has done this by bolting numerous additions on top of the stock Hadoop distribution, and it reckons that its modular architecture will help it update the software over time without transforming the application's codebase into a gigantic ball of spaghetti.
Future areas of development for the software include multi-tenancy, enhanced Hadoop, and adding in other open-source projects such as Apache Spark.
"Multi-tenancy is a major theme we want to focus on next [by] allowing different groups and lines of users, and different types of workload requirements, to work with our data fabric," explained Anant Chintamaneni, Pivotal's director of product management for the Pivotal HD stack, in a chat with The Register.
Though the main changes to Pivotal HD are about putting proprietary, easy-to-use data querying and analysis interfaces on top of Hadoop, Chintamaneni confirmed that initial Hadoop installations are still troublesome for some organizations.
"When a customer deploys it, our guidance always is to plan," he said. "You do have to plan exactly how you're going to lay it out. If you want to run HBase and HAWQ on same cluster you need to apportion the cluster accordingly."
The company may even further its open-source contributions, he confirmed, saying the company is thinking of contributing some technology into Hadoop's advanced YARN job scheduler.
Hadoop may be a darling of sophisticated engineering-heavy companies, but Pivotal is betting that by making it easier to use, it may finally be able to make some cash out of the open-source project. ®
Sponsored: Learn how to transform your data into a strategic asset for your business by using the cloud to accelerate innovation with NetApp