iPhone 6 FEELS your heat, wetness... and it'll TELL Apple – report
Chinese analyst claims new mobe fitted with crafty sensors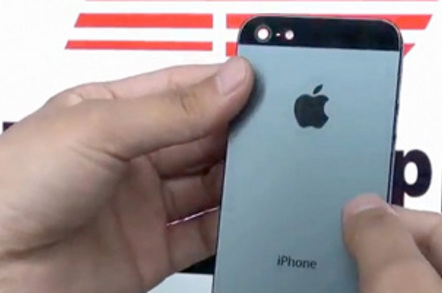 A Chinese Apple analyst has claimed the next iPhone will be fitted with sensors which can detect pressure, humidity and temperature.
In a post on her Weibo page, ESM-China's chief analyst Sun Chang Xu said top-ranking fruity sources had told her about Cupertino's plans.
Google provided the following translation of Sun's post*: "A top MEMS [microelectromechanical systems] sensor friend told me that iPhone6 may add a pressure sensor and a temperature and humidity sensor. It seems to be the added plus to go."
Sun has previously predicted that the next iPhone will come in two different sizes.
The addition of sensors tallies with a recent leak which showed Apple was developing a health monitoring system and an app called HealthBook. The rumoured iWatch would probably work with this app to help fanbois monitor their fitness levels and chart day to day exercise.
The Galaxy S4 comes with nine sensors, including one to detect humidity and temperature. This sensor is used by the S Health app to work out the user's "comfort level". The phone also comes with a barometer.
We imagine all sorts of exciting conspiracy theories springing up around Apple's new sensors, particularly when combined with its new-found ability to track fanbois using iBeacon.
So why do you think Apple want to see how hot, hard and wet its customers are? ®
* We welcome any clarifications from our Chinese-speaking readers...
Sponsored: Minds Mastering Machines - Call for papers now open