China chastises cheeky chirpers with WeChat clampdown
No matter where they post, the Great Firewall springs up to shut them down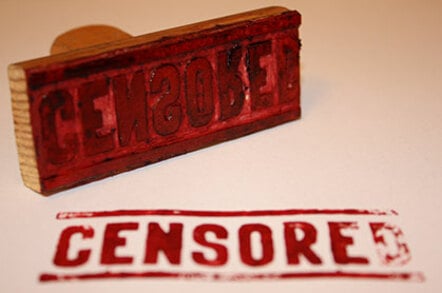 China's censors appear to have turned their focus onto Tencent's popular WeChat messaging platform, suspending and blocking several widely read public accounts in a bid to control online discussions.
At least 12 accounts, some of which had hundreds of thousands of followers, were suspended last week and replaced with the following message (tr TechInAsia):
Due to reports from users that have been confirmed, all functions for this public account have been shut down for violating regulations. We suggest you cancel your subscription.
Others were apparently shut down completely by the authorities with no official explanation, although many are said to have published potentially controversial political and news-related content.
These include the Zhenhua Channel run by major web media organisation NetEase, according to the South China Morning Post.
The clampdown on WeChat can be seen in terms of a wider bid by Xi Jinping administration to strictly control the boundaries of what can be discussed on social media.
Already strict new penalties have been imposed on those found guilty of spreading online "rumours" on the country's microblogging platforms like Sina Weibo, while real-name registration is required for all users.
The government has also pressured influential celebrity users on the site known as "Big Vs" to dial back their rhetoric.
As such, WeChat was seen by many as a relatively unfettered communication platform – until now.
Although this censorship applies only to users inside the Great Firewall, the news will not help Tencent in its bid to expand the service globally, especially as all messages must pass through its servers in the Middle Kingdom.
Last year the firm was left red-faced after it emerged that even international users' messages were being blocked for containing forbidden words – although Tencent later blamed a technical glitch. ®
Sponsored: Minds Mastering Machines - Call for papers now open