Crap turnover, sucky margins: TV is a 'terrible business' – Steve Jobs
Ex-WSJ journo quotes tech titan as Apple streaming telly box bags $1bn in 2013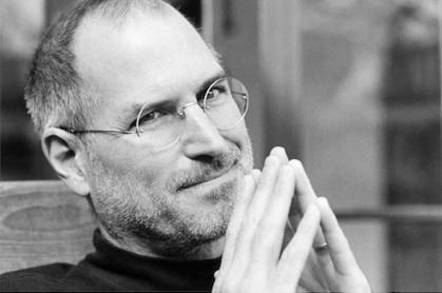 Fanbois hoping to upgrade their Apple streaming set-top box to a fully fledged Apple TV set will have been disheartened by revelations in a new book claiming Steve Jobs did not support building an iTelly.
According to former WSJ journo Yukari Iwatani Kane's book Haunted Empire: Apple After Steve Jobs, the fruity führer reportedly told a meeting of Apple's top 100 execs that there was no chance Cupertino would make its own gogglebox.
"TV is a terrible business," Jobs was quoted as saying in her new book. "They don't turn over and the margins suck."
However, previous reports might give fanbois some hope of seeing some kind of Apple television.
Apple made more than $1bn from its Apple TV set-top box last year, with Tim Cook saying it had turned from what Jobs had once described as a "hobby" into a valid area of business.
At the All Things Digital conference in 2010, the Apple godhead said selling set top boxes was difficult because cable networks give them away for free, which is why the content-free boxen remained a "hobby" for Apple.
Jobs said this practice "squashes any opportunity for innovation". He also had a particular problem with the aesthetics of televisions and set top boxes, which often end up requiring several different remote controls and turned a corner of the owner's living room into a rats' nest of cables.
"The only way that's ever going to change is if you can really go back to square one, tear up the set top box, redesign it from scratch with a consistent UI across all these different functions, and get it to consumers in a way that they're willing to pay for it," he said. "And right now there's no way to do that."
The obvious answer to Jobs' misgivings would be to grab hold of some content, which is likely why Cupertino has previously tried to ink content deals with major entertainment firms including CBS and is often reported to be in talks with other firms.
Apple may have done well from heeding the tech titan's warnings that people simply didn't refresh tellies the way they do hardware. Today's TV-pushers are having trouble getting the 4K-ing boxes out the door, no matter how many curves and ultra-high-def features they add. ®
Sponsored: Minds Mastering Machines - Call for papers now open