Spend zero notes to take all notes with OneNote: Microsoft makes app free, builds it for OS X
No ads, cloudy API, but charges for premium features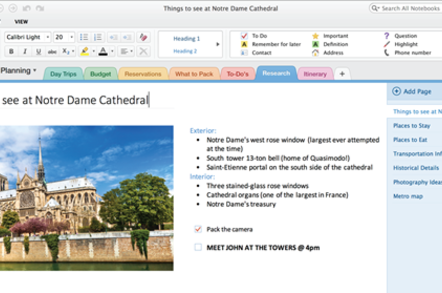 Microsoft is making its Office OneNote application free for all users, creating a version for Apple's OS X, and opening up key parts of the API so developers can hook it into online cloud services.
"Today is a huge step forward for OneNote. We've made it easier to use OneNote no matter what platform you're on, and easier than ever to send anything into OneNote," said David Rasmussen, partner group program manager at Microsoft.
"But we're not stopping here. We're continually improving OneNote across our applications and service, and working with partners so you can take note of anything and keep it in your digital memory."
OneNote was launched by Microsoft ten years ago and enables users to mix text, pictures and stylus drawings into notebooks. It's popular among students and journalists because it allows the recording of interviews and lectures, the sound files for which can then be navigated by clicking on sections of text.
Microsoft says it has been deluged with messages from Apple users wanting the application, but says the decade-long wait is now over. OneNote for Mac uses Microsoft's ribbon interface, runs on OS X 10.9 and above, and it's now in Apple's desktop App Store with the temping price of free.
The basic OneNote package for cloud users includes 7GB of online storage of notes and audio, and users of Office 2013 and 365 will be able to buy extra features like SharePoint and Outlook support.
On the API front, Microsoft is hoping that developers of cloudy apps will build OneNote functions into other applications. These include the ability to scan documents into OneNote, email directly from notes, and add content from Feedly, News360 and Weave.
OneNote has been something of the redheaded-stepchild of the Office suit (a Redmond PR recently expressed surprise and joy when she saw this hack using it) and Microsoft is no doubt hoping that making it available for free will do something to improve its footprint. ®
Sponsored: Minds Mastering Machines - Call for papers now open