Is Apple about unleash a cheaper 8GB iPhone 5C? O2 'leak' suggests: Yes
New claim: mobe network tips off staff to new arrival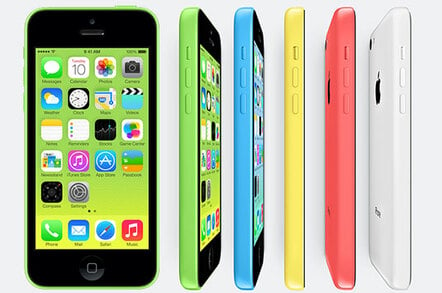 An Apple iPhone 5C with 8GB of storage is rumored to emerge this week, according to reports and a leaked photo.
A German-language blog obtained an internal email to staff at mobile network O2 in the Euro nation to support the claims: the leaked memo describes a new addition to the iPhone 5C family, specifically a handset sporting 8GB of onboard storage at a lower price than the 16GB model already on sale (the other option being the 32GB handset).
The new device is said to be slated for launch on Tuesday, March 18, so the accuracy of these rumors will be known sooner rather than later. It's believed the 8GB iPhone 5C handset will cost €60 ($84) less than its €599 ($834) 16GB older brother. (An 8GB iPhone 5C at €539 would work out more expensive than today's €349 8GB iPhone 4s in Germany.)
The supposedly genuine O2 email has since been backed up by a photo handed to tech blog Engadget, which appears to show the the product sticker of the box for an 8GB iPhone 5C.
Since its launch in 2007, the iPhone has sat at the high end of the smartphone space. Apple has thus far opted to charge a premium for its handsets and reap profits from a smaller slice of the overall market. The company attempted to diversify a bit with the launch of the slightly cheaper iPhone 5C.
Thus far, indications are that the colorful plastic 5C has failed to gain traction with consumers. A report based on sources within Apple's supply chain suggested that as many as one million 5C handsets are sitting unsold in warehouses as customers opt to pay a bit more for the high-end iPhone option – or pay less and get an Android rival. ®
Sponsored: Minds Mastering Machines - Call for papers now open