Boffins propose brainwave privacy standard
EEG data can predict illness, and app-makers are storing it in the cloud …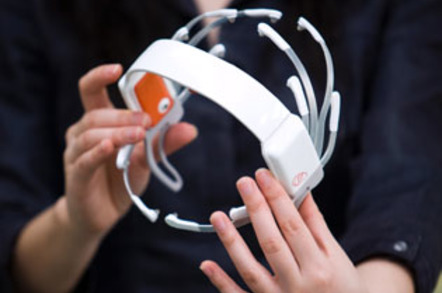 Researchers from MIT Media Lab and the Technical University of Denmark have raised the issue of "Privacy for Personal Neuroinformatics", a field they feel deserves attention because brainwave data is starting to go public.
The four writers' paper on the idea points out that electroencephalography (EEG) has been around for ages and records brain activity using electrodes. Patients generally consent to EEG data being captured, often because it's a useful diagnostic tool. But EEG data can also be used to "diagnose mental diseases, and traces of epilepsy, and decode personality traits," the paper points out, arguing that current arrangements mean patients don't consent to or contemplate deeper analysis. Nor can patients control the output of their minds: a test for one condition will produce data useful for other purposes.
Most EEG data, the authors point out, is held by medical organisations who are careful about privacy, but research repositories are emerging that aggregate EEG data. Kit and software to capture EEG data are becoming widely available and have made it onto smartphones through efforts such as the Smartphone Brain Scanner on GitHub. The likes of Emotiv even promote "affordable, consumer friendly, high-resolution, multichannel, wireless EEG systems" and offer them as a way to "democratize brain research by enabling access to affordable, user-friendly, high-resolution brain measurement systems."
The paper stops a long, long, way short of declaring there's any direct risk posed by such offerings. But it does suggest that those who submit to EEG could benefit from privacy standards that make sure their data isn't used to peer into their minds in ways they haven't already contemplated.
Such a standard, it is suggested, should mean EEG patients "control the data access authorizations, request deletion of the data, or move the data to another service provider. Clear boundaries within those services should be set, defining in business, legal, and technical aspects what is under user control and what extracted high-level answers are used for providing the services."
MIT's OpenPDS is suggested as a useful framework to begin the effort.
Now for the really tough question: has the NSA already made such privacy standards moot? It's not hard to imagine the world's spookhauses being very, very, interested in repositories that give them the chance to understand targets' state of mind. ®
Sponsored: Minds Mastering Machines - Call for papers now open