X-IO to heat up ISE storage bricks with iSCSI access
Plans higher capacity drives, too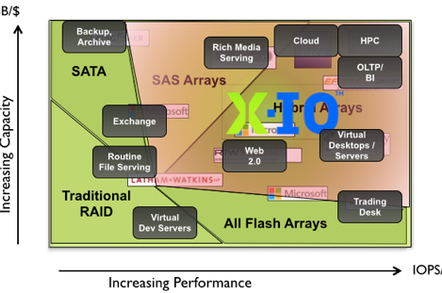 Sealed disk/flash array supplier X-IO is growing at 30 per cent a year and intending to widen its market by adding iSCSI later this year to the existing Fibre Channel access.
ISE and Hyper ISE products are 3U sealed rack enclosures requiring no maintenance access for five years as the smart software inside copes with any component failures and keeps the system working at its rated spec – whether it's 10 per cent, 50 per cent or 100 per cent full of data.
The annual failure rate for disk drives in ISE is just 0.1 per cent, far lower than the industry average of around six per cent. It is a flat rate throughout the life of the product.
There are now more than 7,000 ISE products installed by around 1,200 customers, with a focus now on MSPs and cloud providers. According to Gavin McLaughlin, X-IO's solutions development director: "ISE is high-performing no matter how much data you have on a system unlike other systems that slow down when they hit 75 or 80 percent capacity."
As well as the obvious cost-savings from having no maintenance issues for a warranted five years, McLaughlin says customers save money because ISE is more efficient than other storage arrays.
He cites Kingfisher, a UK retailer which saved 40 per cent on its disk storage costs by storing data on ISE instead of IBM V7000, DS8000, DS5000 and other arrays. McLaughlin said Kingfisher was moving petabytes of storage to X-IO and mentioned Kingfisher experiencing two triple disk RAID 6 failures which made ISE's maintenance-free feature seem very attractive.
ISE products will get iSCSI access in a couple of months – the technology is in beta tests right now – and the products will have 4 x 40GbitE interfaces available. Higher capacity drives are coming, with the enclosure's 40 x 2.5-inch 1.2TB SAS disk drives moving up to 1.8TB for a useful increase in capacity. X-IO says ISE gets more IOPS out of its disks than anyone else.
The company uses the following chart as a way of positioning itself in the market, covering the SAS drive array and hybrid storage array ground: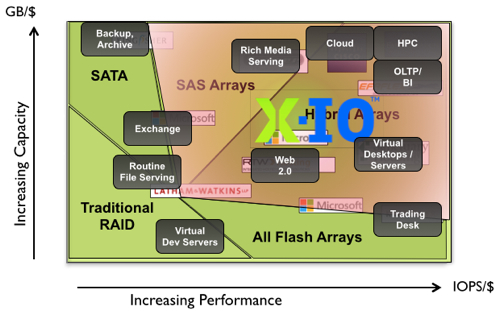 X-IO is growing steadily and aims to increase its headcount by 15 per cent this year. It is positioned for sustained, long-term growth and, within its market area, has unique advantages that are attracting blue chip and other customers. Seven thousand installs are not to be sniffed at. They say this is a solid product with a future. ®
Sponsored: Learn how to transform your data into a strategic asset for your business by using the cloud to accelerate innovation with NetApp