NetApp to 'realign', cut 600 jobs worldwide
Axe sharpened due to 'constrained IT spending climate'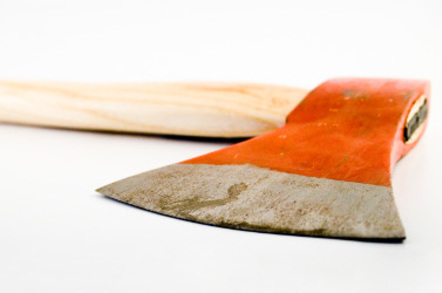 NetApp has announced it will cut 600 jobs around the world, as part of a plan to adopt "... a business realignment plan designed to focus its resources on key strategic initiatives and streamline its business in light of the constrained IT spending environment."
The company announced the plan today in a form 8-K filed with the United States Securities and Exchange Commission (SEC).
The SEC defines a form 8-K as "the 'current report' companies must file with the SEC to announce major events that shareholders should know about." That NetApp has issued such a document is therefore a sign it needs to let shareholders know things aren't going to plan, lest they fling sueballs at it in future for inadequate disclosure.
The filing doesn't say much more than the quotes above: there's no detail other than warning "of approximately $35 to $45 million for employee terminations and other costs associated with the business realignment plan."
What's going on at NetApp to make this necessary? The company already flagged the "constrained IT spending environment when discussing its third quarter results, so that's not a new problem although it may be one that has worsened.
Perhaps the intention to "focus ... resources on key strategic initiatives" tells us more about the company's woes. If so, what are the initiatives that NetApp considers not to be key? The imminent FlashRay all flash array must surely be consider both key and strategic. Developing products cloud operators can use is important, too, because selling to service providers helps to pick up revenue that would otherwise have gone to clients' on-premises arrays.
So what's neither "key" nor "strategic" for NetApp? To the forums, dear readers! ®
Sponsored: Minds Mastering Machines - Call for papers now open